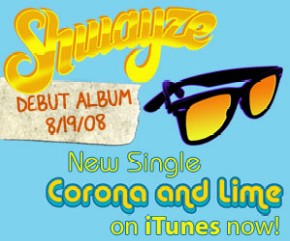 Shwayze is proud to announce the premiere of "Buzzin'," the Malibu artist's reality show on MTV. Wednesdays at 10:30PM ET/PT, fans can catch the misadventures of Shwayze, his wingman and music partner Cisco, best buddy Warren, and manager Jordan as they define a whole new California sound.
Showcasing the long road from the trailer park to the top of the charts, "Buzzin'" follows the unlikely pair – Shwayze, the self-described "only black kid in Malibu" and Cisco, the seasoned singer/producer and regular tabloid bad boy – and their crew as their path to stardom hits all the twists, turns and bumps along the way.
"Corona and Lime," the group's next single to be released off its heavily-anticipated, self-titled album, is now available through all digital retail outlets. Staying true to the group's laid-back steez, "Corona and Lime" is an ode to beautiful women and the many differences found amongst them all. As another tribute to love delivered through Shwayze's easy-going flow, "Corona and Lime" is destined to be one of the summer's signature party songs.
Additionally, Shwayze took some time to record a few acoustic renditions of their songs for Buzznet. From "Buzzin'" to "Don't Be Shy," the Buzznet sessions are intimate takes showcasing the songs' stripped-down nature. Also, Shwayze and Cisco took part in Buzznet's version of "The Newlywed Game," a hilarious question and answer session that just has to be seen to be believed.
 
Purchase "Corona and Lime" on iTunes!
Watch "Corona and Lime" on Imeem:
Link to "Buzzin'" Show Trailer:
Links to Acoustic Buzznet Sessions:
Q&A- Shwayze and Cisco play Buzznet's version of "The Newlywed Game"