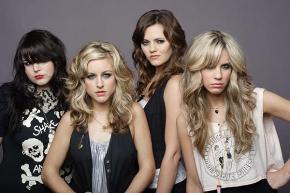 The Donnas are one of the most famous bands on the planet. They have done it with rare radio play and MTV support. But these 4 woman from CA have been making music for more than a decade and have no signs of stopping.   That is great too because these women make some kick-ass tunes. Join me as we  hang out  with Allison Robertson the guitarist for The Donnas. Allison took some time from touring to chat. Also, the girls new album, 'Bitchin' is on sale now, scroll down for a video from the album!
Stoli: Your new album, 'Bitchin' is out now. Are you pleased with how the album is being received? How long and where did you record the album?
Allison: I'm very pleased with how the album has been recieved, although I'd love to hear it on the radio more often of course. It took several months to record the album off and on through late 2006 and early 2007, and we recorded all of it in Los Angeles, at two different studios.
"Don't Wait Up For Me"
 [myspace 18233836 nolink]<
Stoli: You have put out 6 albums so far. Would you say that it gets easier every time in reagrds to trying to please your massive fan base?
Allison: I think our fan base changes and grows with us, and the more people we have listening the more we have to stay true to who we are and what we want next from ourselves, I think that's what our true fans like the most about us. We love all of our albums and eras, but a real band doesn't stay in a bubble; trying to be who we were 10 years ago would be hilarious.
Stoli: You all came together in Palo Alto, CA at the age of 13. What is the key for staying together as 4 growing woman and not fighting eachother all the time?
Allison: The funny thing is that people ask if we fight a lot, or how do we last without fighting etc…we don't fight because we are real friends. I see male musicians fight more within their bands than I see females, but I think it has nothing to do with sex and more to do with the fact that we are 4 musketeers, all for one and one for all. It's the real thing with us and that is rare as hell.
Stoli: Would you say that as female musicians, the media focuses too much on looks and not enough on the music?
Allison: I definitely think we have been picked over and scrutinized for looks, lack of looks, style, clothes, hair, all that stuff, but who knows if it's because we're women or not? All I know is we've always tried to ignore what folks say about what's on the outside and kill em onstage and put out great albums, so at the end of the day focusing on what we look like will seem completely beyond important.
Stoli: You have been touring non-stop. How do you keep your sanity and privacy while on the road so much?
Allison: I think everyone is pretty good at giving each other space on the road, we all read and listen to iPods, write stuff and stay in touch with people at home to keep it all together. We also entertain each other and go out on night's off, exploring the towns we visit, take advantage of the travelling while we can.
Stoli: Do  any of you have kids or husbands at home and how do you keep your family together?
Allison: None of us are married or have kids…
Stoli: If you were to give advice to younger woman rockers out there that want to follow you, what would that be?
Allison: Don't listen to what critics and naysayers tell you, just go with your gut and play the type of music you like, the way you want to play it. Practice constantly and be respectful to your bandmates, that will optimize your fun partying time together, which is vital. Don't make rash decisions, think business proposals etc through very carefully before doing anything "big" with your band's name. It will be on your permanent record!!!
Stoli: At what point in life did you all realize that you could make a living doing music and how did that feel at the time?
Allison: I don't believe there's ever been a time like that. We've always worked really hard to earn a living with our music, and it isn't always what it seems, sometimes times are good, sometimes they are rough, and we've always known it would be like that. Pretty much since we started touring we realized we couldn't finish school for a while, and ever since then we've been at it.
Stoli: As artists that put everything into every song, what do you feel about illegal downloading?
Allison:   I feel the same way about downloading as I do about "making tapes" in the 80's and early 90's. It's just the way it is and you can't stop it, so as artists we all need to move on to the next thing and keep trying to tour and get creative with other ways of selling the music.
Stoli: Barack Obama or John McCain in 2008?
Allison: I'm a Californian. What do you think :)
Stoli: What is coming up for the Donnas in 2008 & beyond?
Allison: We have a big fan club show in the desert this fall, and working on some more tours as usual!!
Stoli: Thank you!
Allison: Thank you!
Photo By: Zloz