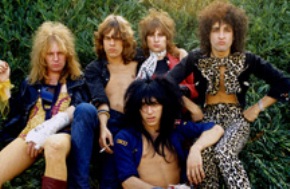 Abrams Image will be releasing the compelling story of the New York Dolls through the never-before-seen photographs and memories of legendary photographer Bob Gruen.
"I thought the Dolls were just the best band–I'd never seen anything like them, ever. Not in Europe, not anywhere–not the Pistols playing, not the Ramones, or anybody."
 —Dee Dee Ramone
Bob Gruen is one of the most well known and respected photographers in Rock and Roll, having worked with legends such as John Lennon & Yoko Ono, Tina Turner, The Rolling Stones, Led Zeppelin, Elton John, Kiss, The Sex Pistols, The Ramones & Blondie. Throughout the 70s, Gruen trailed and photographed the New York Dolls throughout theirf wild parties, groundbreaking performances, and day-to-day lives. New York Dolls: Photographs by Bob Gruen (Abrams Image; U.S. $24.95) showcases Gruen's rich photographs and memories of the New York Dolls, whose groundbreaking fashion, raw music, and I-don't-give-a-damn attitude influenced countless bands to come.
From 1971 to 1975, the New York Dolls owned the New York rock scene, teetering around the stage in impossibly high platform heels in raucous shows at the Mercer Arts Center. Their iconic and trail-blazing (if slightly perverse) style captivated a multitude of loyal fans, among them some of the most eccentric and fashionable characters in New York including celebrated musicians and artists such as Debbie Harry of Blondie, Morrissey, Iggy Pop, and Andy Warhol. Photographer Bob Gruen was right there with the Dolls through the pounding concerts, escapades, and intimate late-night revelries, documenting the bedazzled band and befriending many of the above-named characters whose thoughts on The New York Dolls are featured in this captivating book.
Featuring two hundred unforgettable images, an interview with David Johansen and guitarist Sylvain Sylvain (both of the New York Dolls), and an afterword by Morrissey, New York Dolls celebrates one of the most important bands in music history, through the lens of the man who lived it all with them.