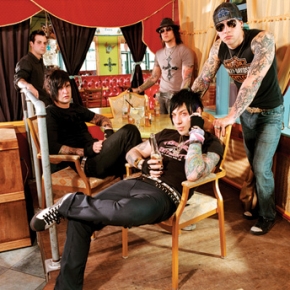 Hard-rock heroes Avenged Sevenfold announce fall headlining tour dates beginning September 9th and co-headlining dates with Buckcherry kicking off in mid-September.
Avenged Sevenfold and Buckcherry will alternate as headliners, with Shinedown and Saving Abel filling out the bill.
On September 9th, Avenged Sevenfold will release a DVD/CD package, entitled Live in the LBC & Diamonds in the Rough. The live DVD features the band's April 10th hometown show at the Long Beach Arena headlining the Rockstar Taste of Chaos tour, while the CD contains previously unreleased b-sides that were recorded during the making of Avenged Sevenfold, plus various covers, and other never-before-heard material.     The DVD was directed by Core Entertainment's Rafa Alcantara, who also worked on the band's critically acclaimed 2007 road documentary All Excess.
Avenged Sevenfold have raised hell on the fourth annual Rockstar Taste of Chaos massively successful arena tour and are currently in the middle of a European tour with rock legends Iron Maiden with amazing fan response.     The band is touring behind the their latest self-produced, self-titled album, which topped the Billboard Alternative, Hard, and Rock charts the week after its release. The follow-up to 2005's million-selling City of Evil, Avenged Sevenfold also debuted at No. 4 on the Billboard Top 200, marking the biggest sales week ever for the quintet. The album's first single, "Almost Easy," was a Top 10 hit at Active Rock, went Top 20 at Alternative, and was the Number One Most Played Video on Fuse.
Avenged Sevenfold headlining dates* :
9/06                         Huntington, WV                 WAMX Festival
9/09                         Quebec City, QC             Pavilon de la Jeunesse
9/10                         Montreal, QC                           Metropolis
9/11                         Toronto, ON                             Sound Academy
9/13                         Chicago, IL                               Q101 Block Party
Co-headlining dates with Buckcherry* :
9/16                         Moline, IL                                       iWireless Center
9/18                       Sioux Falls, SD                   Canaries Stadium
9/19                         Kansas City, MO           Sandstone Amphitheatre
9/22                         Lincoln, NE                               Pershing Auditorium
9/23                         Wichita, KS                             Kansas Coliseum
9/24                         Tulsa, OK                                     Riverparks
9/26                         Huntsville, AL                         Big Spring Jam
9/30                         Clemson, SC                         Littlejohn Coliseum
10/04                     Mobile, AL                                   Bayfest
*more dates to come