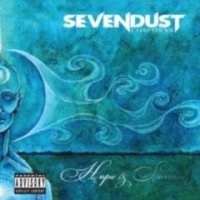 Sevendust kicks off their seventh studio album with 11 great tracks and each having its own, distinct identity.   The new album offers everything from aggressive, heavy-bangin' music to melodic, softer melodies that seem to come together oh so nicely in Hope and Sorrow.   The beauty of the album is that Lajon Witherspoon could be screaming his lungs off during part of a song, but then he slows it down and sings quite harmoniously.  
Hope and sorrow signifies all of the ups and downs throughout the years for all members of Sevendust.   You really get a feel for this from each song and from the sound of it, seems like a band found itself through one special album.   All the ups and downs, the hope and sorrow, the glory and the turbulences—it all is touched on and all figured out on this one.
 I enjoyed the early anticipation of something big to come during many of the songs.   Faint sounds in the background, almost an industrialized sound with anvil hammers hitting steel, leaving the listener intrigued but then grabbing them by the ears coming in hard with ferocity.   It was one hell of a listening experience; I have to say and just got better after each time I listened to the album.  
Expect some other exciting factors like guest appearances by Chris Daughtry and members of Alter Bridge.   Ironically enough, Alter Bridge members were featured on the title tracks, "Hope" and "Sorrow".   Sevendust hasn't added guests to their albums since 2001, so definitely seemed like something special this time around.  
Coming off a nearly two week tour of Germany and Afghanistan, Sevendust enjoys playing for all the brave soldiers and continues to do so.   They also will continue to tour the states, so check www.sevendust.com for dates and times.   I give this album 4 and a half Skopes, Hope and Sorrow freakin' rocks!   No Joke!
Review By Jimmy Rae
[Rating: 4.5/5]