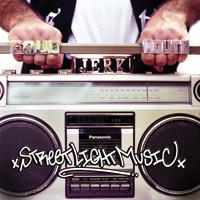 Who does this jerk think he is?   One hell of a rhyming MC, that's who!   Foul Mouth Jerk hails from Jersey, but has traveled through many states laying down rhymes and spittin' lyrics.   His fourth solo effort features 16 hot tracks and has a refreshing, throw-back sound to it.
Jerk really brought it back to the old-school with classic sounds and styles that can be associated with the likes of break dancing and Pac Man.   You just get that 80s flavor from many of Jerk's songs by the way he lays the tracks down and from those beats that seem to come from around the block.   Streetlight Music is bringing hip-hop back to the streets where it all began, where cats were rap battling in the parks and kids playing stick ball outside.   Definitely has that classic feel to it, no doubt.
Old-school also meshes with new-school, where Foul Mouth Jerk seems to bring the best of both worlds together.   It's cool that an artist can stick to his roots and the true roots of hip-hop, but also explore newer facets of the music.   Catchy riffs, smooth-flowin' rhymes and head bobbin' beats are all ingredients that you get from this fresh, new album.   This guy known as Foul Mouth Jerk is definitely no jerk, but sure is keepin' it real for all those true fans out there.  
There are also some rap legends featured on the new album like Grandmaster Caz, Masta Ace and others.   Also expect to hear samples of classic Notorious B.I.G songs during certain tracks.   Overall, the album just has a cool feel and something that you could definitely jam out to in a club or party to.   Just have fun and feel good is what I got out of listening to Streetlight Music.   And isn't that what the music should all be about, am I wrong?  
For more on Foul Mouth Jerk, check out myspace.com/foulmouthjerk and www.granolafunk.com. I give this album 4 and a half Skopes, check it out for yourself!
Reviw By: Jimmy Rae
[Rating: 4.5/5]