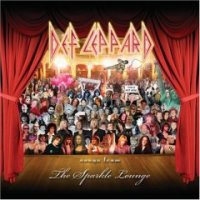 I just have one question:   "Do you wanna get rocked"!   Def Leppard is bringin' the heat once again with their fourteenth studio album and they seem to be conquering newer generations of fans.   These rock icons from England have been going strong since the late 70s and definitely know how to turn a great album out.   Songs from Sparkle Lounge is no exception!
The new album features an array of songs that can appeal to many different types of people.   You get heavy, then not so heavy mixed in with slower, love-type songs blended in with some incredible melodic singing and then add in some punk for good health.   This is Def Leppard and at their finest I might add.   Something for everyone and they accomplished that feat through all 11 tracks.  
One of my favorite songs on the album is "C'Mon C'Mon" because of its fun and rockin' feel.   There are so many good songs though and honestly not one I didn't enjoy listening to.   Definitely one of those albums you can turn on and just leave on until the end.   After the third listen, I particularly realized how impressive and how well-done Songs from The Sparkle Lounge was.  
To say "Nine Lives" was the biggest surprise because of a guest appearance by Tim McGraw would be unfair and not do the guys of Def Leppard any justice.   Don't get me wrong, it was a nice surprise to hear and unique to blend the two genres of artists together but so much of the album is a treat.   So many songs on this album that fans will love and with its musical diversity, it makes for a special album.  
Don't miss out on this one; Def Leppard has proven that their musical abilities and capabilities can go way beyond even a fantastic album like Pyromania.   These British rockers are proving that greatness does with come time.   I give this album 5 Skopes, loved it!!!!
For more on Def Leppard, check out www.defleppard.com.  
Review By: Jimmy Rae
[Rating: 5/5]