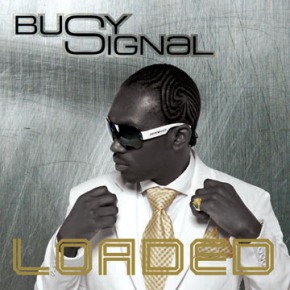 VP Records is proud to announce the release of Busy Signal, arguably the hottest and most versatile lyricists currently in dancehall. On his groundbreaking sophomore album Loaded, in stores September 9th, the leading Jamaican deejay unleashes an arsenal of progressive hits that could ultimately redefine dancehall.
This eagerly awaited landmark contains #1 smashes like "Jail", "These Are The Days", "Unknown Number" and "Wine Pon Di Edge" that are dominating the dancehall scene worldwide despite their obvious difference in style. This is one of Busy's trademarks and displayed throughout Loaded. His sense of fun and mischief is allowed full rein on tunes like "Wine Pon Di Edge," "Hey Girl", hip hop/dancehall hybrid "Tic Toc" and "Cool It Baby," which Busy programmed himself.   Yet it's his powerful commentaries on the ghetto lifestyle, like "These Are The Days" that have lent Busy Signal's art its raw edge, and made him into such a potent mouthpiece for the disenfranchised youth of Jamaica and beyond. "Knocking At Your Door", "People So Evil" and "Curfew", are the latest examples of this, whereupon real life and his talent for storytelling combine to often spine-chilling effect.
Busy Signal, real name Reanno Gordon, cultivated his artistry under the watch of dancehall icon Bounty Killer. With his outstanding mic techniques and restless creativity, he became a member of The Alliance-Bounty Killer's musical powerhouse that spawned dancehall stars like Elephant Man, Mavado and Wayne Marshall. Busy began to receive widespread attention in 2005 with breakthrough hits like "Born and Grow" & "Step Out" and his astounding live performance set which eventually booked him on all the major Jamaican stage shows including the Smirnoff Experience, Island Explosion, Sting and Reggae Sumfest, where he was called up by G-Unit on International Night.   The following year, he released his debut album Step Out with Greensleeves Records which garnered positive media attention and a growing fan base worldwide.
With Busy's endless ingenuity and talent paired with a fresh production team of young dancehall pioneers setting the tone for this generation, such as Demarco and SSMG, Loaded will be a crucial stage of Busy Signal's development that'll spread his gift far and wide, beyond the confines of his original audience.
SKOPE IT HERE!