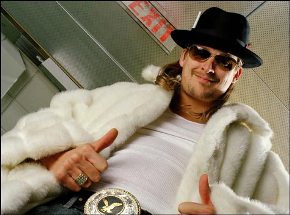 After debuting at #1 on the Billboard Top 200 album chart 40 weeks ago, Kid Rock's "ROCK N ROLL JESUS" is once again a top 5 album, climbing to #5 on this week's chart.  
Notching its 13th consecutive week of increased sales, the album has now reached the highest sales rank it has seen since Christmas 2007, scanning over 61,000 copies in the U.S. this week exclusively via physical sales.   To dates, "ROCK N ROLL JESUS" has scanned nearly 1.2 million units.    
"All Summer Long," Kid Rock's current smash, is now top 15 at Hot AC, Pop, and Rock radio formats, while the companion video is currently #1 on VH1's countdown and is top 5 most played on the network in XL rotation.   CMT and Country radio are not far behind, with the record leaping up the country radio charts and being added to "Hot Shot" rotation on the network, where it is already a top 10 video on their countdown.   "ROCK N ROLL JESUS" is Kid Rock's fifth consecutive platinum-selling studio effort, with no signs of slowing down.   A major campaign with Major League Baseball, coupled with continued sold-out summer shed shows and a just-announced August 22nd appearance on ABC's Good Morning America with Lynyrd Skynyrd are sure to power the album through the summer.
After completing his first tour overseas since 2001 — with "All Summer Long" now a #1 single in Germany, Austria, and Switzerland, and top 5 in the UK — Kid Rock will continue his monstrous "Rock And Roll Revival Tour" into the fall, with additional dates listed below.   In Detroit, having already sold out 3 nights and over 45,000 tickets at DTE Energy Music Theatre, Kid Rock just placed an unprecedented 4th show on sale at the venue, which will no doubt sell out as well.    
KID ROCK ON TOUR
DAY                                 DATE                           CITY                                                       VENUE
Wednesday       16-Jul                           Winnipeg, MB                           MTS Centre
Saturday                 19-Jul                             Detroit, MI                                       DTE Energy Music Theatre
Sunday                       20-Jul                           Detroit, MI                                       DTE Energy Music Theatre
Tuesday                 22-Jul                             Detroit, MI                                       DTE Energy Music Theatre
Friday                           25-Jul                           Detroit, MI                                       DTE Energy Music Theatre
Saturday                   02- Aug                       Boyne Falls, MI                       Boyne Mountain
Friday                           08- Aug                       New Orleans, LA                 New Orleans Arena
Saturday                   09- Aug                       Houston, TX                               Cynthia Woods Mitchell Pavilion
Thursday                 14-Aug                         Cincinnati, OH                         Riverbend Music Center
Saturday                   16-Aug                         Indianapolis, IN                       Verizon Wireless Music Center
Monday                       17-Aug                         Memphis, TN                             Mud Island
Wednesday       20-Aug                         Canandaigua, NY                 Constellation Performing Arts Center
Friday                           22-Aug                         Philadelphia, PA                   Susquehanna Bank Center
Saturday                   23-Aug                         Boston, MA                                   Tweeter Center
Monday                       25-Aug                         Toronto, ONT                           Molson Amphitheater
Friday                           28-Aug                         Milwaukee, WI                         Summerfest – Private
Saturday                   30-Aug                         Holmdel, NJ                                 PNC
Sunday                       31-Aug                         Hartford, CT                               New England Dodge Music Center
Saturday                   06-Sep                       Grand Junction, CO       Rock Jam **
Tuesday                 09-Sep                         Spokane, WA                           Star Theatre **
Wednesday         10-Sep                       Puyallup, WA                           Northwest Concert Center **
Friday                         12-Sep                         St. Helens, OR                       Columbia Meadows (KUFO) **
Saturday                   13-Sep                       Kelseyville, CA                       Konocti Field Amphitheatre **
Tuesday                   16-Sep                       Bakersfield, CA                     Rabobank Theatre **
Wednesday         17-Sep                       Pala, CA                                         Pala Casino- Starlight Theatre **
Friday                           19-Sep                       Indio, CA                                           Fantasy Springs Events Center **
Saturday                 20-Sep                         Las Vegas, NV                     The Pearl **
Tuesday                 23-Sep                       Tucson, AZ                                   AVA Amphitheatre **
Thursday               25-Sep                       Los Angeles, CA                 Gibson Amphitheatre ^ **
Saturday                 27-Sep                         Laughlin, NV                             Aquarius Casino & Resort **
Sunday                       28-Sep                       Phoenix, AZ                               Dodge Theatre **
^   with special guest Rev Run
** with Rehab