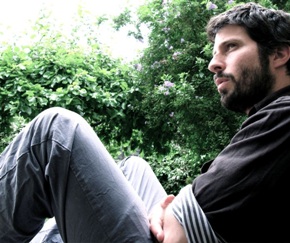 Dangerbird Records is home to a cornucopia of hot young talent: Silversun Pickups, Dappled Cities, The One Am Radio and Sea Wolf to name a few. So when signing someone new to the roster it is best to take note and, given the diversity of the aforementioned acts, check all sonic expectations at the door.
To that end, Ed Laurie is a singer/songwriter from the UK whose baritone vocals and nylon-string guitar seem born from a Hemmingway story set in a smoky bar in Tunisia. His self-released reocrd in the UK has already garnered a devoted following.
"Meanwhile In The Park," out October 7th, is a work in the classical mode of the folk canon, but tinged with a flamenco of Spanish gypsies. It is a truly beautiful record and a perfect addition to Dangerbird's growing reputation as one of the most exciting labels in the US and beyond.
All too often in modern music it seems that image, packaging and marketing come before the artist and the song. Ed Laurie is a singer-songwriter whoputs the music back into music.
Attempting to describe his extraordinary songs, such names as Leonard Cohen, Jacques Brel, Syd Barrett, Scott Walker and have all been floated. But like all great songwriters, Ed Laurie takes his influences and moulds them into something new and unique. Singing in a warm, baritone voice memorably described byone critic as "like syrup on pancakes", his haunting, heartfelt songs have that rare ability to take you to another place so that time seems to stand still while you're listen. Blending classic troubadour chords, psych folk, Spanish guitar and Latin-tinged acoustic rhythms with literate, penetrating lyrics, it has been said he creates a "magical realism forthe ears".
"Albert" MP3: