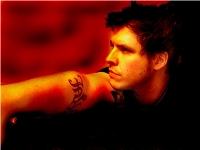 On his new album, "Everything's Alright," Nick Motil sings, "The sun is always shining where I come from." But where is that? According to his myspace page, he was born playing at Jimmy Buffet's Margaritaville Restaurant on the Sunset Strip in Las Vegas, just a few years ago.
Some hints to his identity come through the music on his latest album, "Everything's Alright." His melodies are guitar-based and painstakingly simple. His lyrics circle vivid images, creating movies in the mind of the listener, beside declarations of love and heartbreak. At times, it sounds like he wrote down what he's said in phone conversations, or letters never sent. He doesn't push it when he sings. His voice drawls like shoes across gravel. He might as well be sitting on the front porch of a family farm, playing for the sun as it sets in the sky.
Nick Motil is a country boy.
Apparently, he doesn't know this yet. He lists his influences as Paul Simon and David Gray, two artists that share only the occasional penchant for acoustic songwriting. That's where the similarities end. Motil misses the originality of songwriting and eclectic feast of genres that is Simon's career, as well as the Euro-influences of Gray.
"Everything's Alright" is an album of Americana. It's filled with brilliant country tunes. It's melodic and clever, a great Sunday afternoon record. As a lyricist, Motil likes to play word games. As a songwriter, he favors classic chord progressions. His originality comes through in the down-home comfort he exudes, and his ability to sing candidly. He opens the song "Butterflies" with the line: "I probably should've kissed you." He's singing to the ladies in the crowd, but earnestly.
Currently, Nick Motil is the highest booked act on U.S. College Circuit. If he fessed up to the country and western appeal of his music, he could headline arenas.
Review By Anney E. J. Ryan
[Rating 3/5]