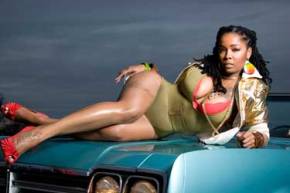 The self-proclaimed Queen of the South, aka Thug Misses, aka Khia, has moved up her release date in conjunction with her label Big Cat Records and distributor, Tommy Boy. After learning that early leaks of Nasti Muzik had surfaced, the album release date has been moved from July 22nd to now.
Explains Victor Lee, General Manager of Tommy Boy, "After discovering that tracks from the album had surfaced on various peer-to-peer file-sharing networks, we made the quick decision to push forward the iTunes release date in order to allow fans to support Khia by purchasing the album and avoid any future illegal distribution of songs."
Known for her infamous 2002 smash club hit single, "My Neck, My Back," and her recent appearance on VH1's Miss Rap Supreme, Khia has returned to bring her sexually-driven lyrical prowess and southern charisma to her latest album. On each track Khia commands the listener's attention by being what she knows best; herself. Khia makes no attempt to fit into the mainstream mold or tone down her image to placate music execs or concerned parents. Instead, Khia is intent on an explicit musical revolution that is equal parts shocking, and hilarious, all in the name of entertainment. The album also features a series of skits, both musical and comedic, that confront Khia's haters and are sure to spark new rivalries.
"Can't Let The Head Go":
"What They Do" Jaguar Skills Remix: