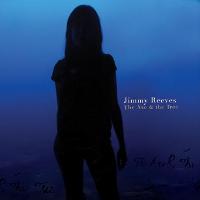 Do not confuse Jimmy Reeves with the Texan country crooner from the fifties and sixties. This Jimmy Reeves is a gypsy. He calls everywhere home. Reeves grew up a military kid, traveling across the country. However, in his new album, "The Axe and the Tree," he sounds very grounded, like someone who's made a home for himself in his own head.
"The Axe and the Tree" references the story of Noah and the Flood, the moment when Noah decided to start building his ark, despite the warnings and laughter of skeptics. Reeves appreciates this kind of blind faith. It's proven to serve him well. "The Axe and the Tree" is an album that floats, constructed of rich materials and similar mad inspiration.
The whole album bleeds blue. It reminds you of the nineties, back when you could spend weekend nights sitting in the back of a smoky dark café. Snippets of the music are too beautiful for the coffee house; however, Reeves has the tendency of a singer-songwriter to overplay melodies instead of moving on. This could be due to his appreciation of the blues. Reeves attempts this same kind of form, but through songs that sound more like pop ballads.
All artists make choices, and Reeves chooses to be more avante garde than the typical singer-songwriter. At times, his words don't match his melodies. His music is lush, swaths of piano and guitar that unfold and wrap around you, while his words thunk and clatter. Without the words, this album would make perfect movie music. To do that, however, would rob the world of Reeves' voice, a voice that should be heard. It's not cultivated or polished; it's just good. Much like John Lennon or Paul Simon, Reeves has a natural, unassuming solid voice. So few singers sound so down-to-earth today.
Review By Anney E. J. Ryan
[Rating 2/5]