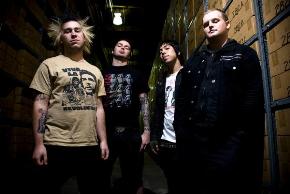 San Francisco's snarling punk rockers Static Thought will release their sophomore album, The Motive For Movement, on September 9th.  
Teaming up again with producer Dave Tweedie (No Doubt, Flipsyde, In The Trenches), Static Thought deliver a new album full of furious punk rock that channels the sheer energy of The Clash and the raw sound of The Nerve Agents, giving listeners a 'motive for movement' straight towards the circle pit.
The Motive For Movement separates Static Thought from the wash of generic punk rock with a original sound that is unlike any band today.   By creatively blending different styles of punk and creating skillful songs and great hooks, the band is able to keep the listener interested from beginning to the end.  
Static Thought Tour Dates:
7/15 — Churchills Pub — Miami, FL
7/16 — Black Box Collective — Orlando, FL
7/17 — TBA — Mobile, AL
7/18 — The Brickhouse — Houma, LA
7/19 — Fitzgeralds — Houston, TX
7/20 — Red 7 — Austin, TX
7/22 — Rock Bottom — San Antonio, TX
7/23 — Reno's Chop Shop — Dallas, TX
7/24 — The Conservatory — Oklahoma City, OK
7/25 — Whiskey Dix — Lubbock, TX
7/26 — Moonlight Lounge — Albuquerque, NM
7/27 — Stanton Underground — El Paso, TX
7/29 — The Living Room — Tucson, AZ
7/30 — Stray Cats — Tucson, AZ
8/2 — The Rox — Las Vegas, NV
8/3 — TBA — Salt Lake City, UT
8/5 — The Bouquet — Boiese, ID
8/6 — The Empyrean — Spokane, WA
8/7 — Studio 7 — Seattle, WA
8/8 — The Crypt — Portland, OR
8/9 — Long Shot Saloon — Bend, OR
8/30 — 924 Gilman — Berkeley, CA (CD RELEASE SHOW!)
Photo by Danny of Empty King Media