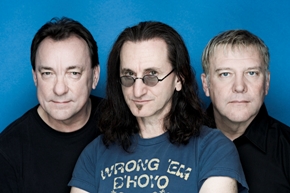 Catching a live Rush concert is like going to the circus. There is non-stop amazement over what these three Canadian super musicians can do in their natural habitat of the stage.Rush had to tour extensively for many years to reach the superstar status they have today. It only makes sense that they've honed their act over the years. Lacking the charisma of other live acts, Rush puts all of their style into their playing.
Last Friday night's concert at the Verizon Wireless Arena in Manchester, New Hampshire was no exception. The Manchester arena's poor acoustics often made the bass guitar and bass drum sound like a thunderous rumble, requiring some occasional effort to hear the rest of the sound. Still, Rush was smarter than average bear in concert.
 
Performing with three video screens hung behind them, Rush began with a humorous video that featured the band becoming frightened by ghostly happenings in a haunted house. Guitarist Alex Lifeson walked nonchalantly onto the stage strumming the opening chords for their 1981 hit "Limelight." The energetic precise interplay of bass-synths-guitar-drums-vocals set the blueprint for the rest of the show. With the three video screens showing startling close-ups of the band's chops, fans got the show they came for.
 
Rush eased the pace with "Digital Man" off 1982's "Signals" album, and "Ghost Of A Chance" from 1991's "Roll The Bones." Within the slower tempo Lifeson showcased how he can power a song with his melodic phrasing and rhythmic chording, and more importantly, his guitar overcame the arena's tendency to reverb a lot of bass notes.
 
Rush have eliminated two of my favorite songs, "Circumstances" and "Entre Nous" from their recent "Snakes And Arrows Live" CD, which I forgave them for because they played so well. Last Friday was one stop on the second leg of a tour that began a year ago.  
 
"Mission," from 1987's "Hold Your Fire," has become a staple of this tour, an emotive tune with Geddy Lee's synth melodies and Lifeson letting loose his steadiest chords and most piercing phrases.   "Freewill" from 1980's "Permanent Waves" album has been a Rush live staple ever since, and I've lost count how many times it appeared on their live albums. Lee held this song together with his muscular bass notes before going into some thumping pyrotechnics on his four string. It was time for some music from "Snakes And Arrows."
 
"The Main Monkey Business" was a fantastic instrumental workout for Rush, with goofy black and white film clips from previous decades showing monkeys and men in gorilla costumes. The trio has a sense of humor. They had four rotisserie ovens cooking chickens throughout the evening. A chef twice came out to baste them while the band played on. Near the end, Lee and Lifeson threw pieces of chicken out to the audience. Lifeson gave out guitar picks several times to people standing right in front of the stage.
 
Acoustic driven, "The Larger Bowl" showcased Lifeson's stirring melody and Rush's social justice concerns as the three screens depicted everything from Klu Klux Klan with torches to starving children with empty bowls to teenage terrorists toting A.K.47s. The last line in this chorus being "Such a lot of pain on the earth."
 
Lifeson also did justice to "The Trees'' from 1978's "Hemispheres" album while his electric guitar solo faced off strategically with Lee's synthesizer on "Between The Wheels" from 1984's "Grace Under Pressure."
 
Material from the 70s, 80s and 90s like "2112", "Subdivisions," and "Dreamline" seemed as fresh as the newer material "Far Cry" and "Working Them Angels" from "Snakes And Arrows." Rush has lurched from synthesizers, sci-fi adventures and youthful themes to guitars and drums and more spiritual lyrics. Family life and personal tragedies have refocused priorities for these mid-50s rockers. Musical passion and precision, though, remain constant.
 
Neil Peart's masterful drum solo became a show onto itself. With video close-ups of his mighty athletic arms pounding those skins and his dancing shoes gliding over the bass drum and snare drum pedals, he meshed numerous musical styles. A snippet of "We Will Rock You" by Queen was discernable in the middle of countless other patterns before he launched into a jazz workout influenced by his studies with drummer Freddie Gruber.
 
Rush performed one of my favorites, "Witch Hunt," from 1981's "Moving Pictures." Lifeson's steady chords and Lee's low key vocal approach here brought to life Peart's timeless lyrical images of self-righteous vigilantes who take the law into their own hands when they disapprove of how other people live their lives.
 
Hit singles "Spirit Of Radio" and "Tom Sawyer" found the arena singing along word for word and the encore of anthem songs "One Little Victory," "A Passage To Bangkok," and "YYZ" was like a thank you back to the audience as the trio were at their energetic best.
 
This Manchester concert was not sold out, but Rush filled more seats than many other national acts during this economic recession. And that's pretty good for a 34 year old band on the second leg of a year long tour.
Words By Bill Copeland – CWritebill@aol.com