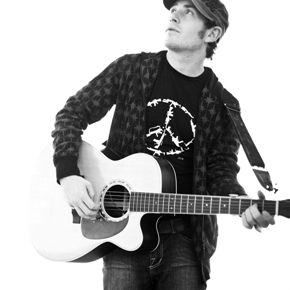 Warner Bros. Records is pleased to announce that it has signed up-and-coming singer-songwriter Jason Reeves to a recording deal and will pick up distribution of the 23-year-old Iowa City native's digital debut album, The Magnificent Adventures of Heartache (and Other Frightening Tales).
The label will make a physical CD of the album widely available at retail for the first time.
Reeves has already made a splash with Magnificent Adventures, which has sold briskly since Reeves released it himself by posting the tracks on his MySpace page in August 2007. Reeves' hook-filled songs of love, hope, heartbreak, and renewal, matched with his engaging tenor voice, propelled him to become the No. 1 MySpace Folk artist (unsigned) for 9 months and made him a fixture in the Top 5 Acoustic (unsigned) and Top 20 Overall (unsigned) categories.
In addition, Reeves was named one of the Top Indie Singer-Songwriters of 2007 by iTunes, which also dubbed Magnificent Adventure one of its Top Folk Albums of 2007, giving it a five-star review after it debuted at No. 2 on the iTunes Folk chart.    
Many fans will already be familiar with Reeves through his songwriting collaborations with breakthrough singer-songwriter Colbie Caillat, the first person Reeves met after he relocated to Los Angeles in March 2005, to pursue his songwriting career. Reeves co-wrote 10 tracks on Caillat's platinum debut album Coco, including the smash hit singles "Bubbly" and "Realize," the latter of which he also sings on, and its upcoming single "The Little Things." Reeves has also had his songs featured on the television shows One Tree Hill and A Shot At Love With Tila Tequila.
On August 5, an updated version of Magnificent Adventure will be released digitally to all participating online retailers and will feature new mixes of 4 songs, as well as a re-recorded version of "Gasoline."  
Reeves will launch a U.S. tour beginning with a special benefit show in his hometown of Iowa City on July 1st (his 24th birthday) and continue touring through the end of the month. Reeves will donate all proceeds from the July 1st show to the Red Cross to benefit victims of the recent Iowa floods and encourages fans to donate and participate in a very worthy cause.   All dates are listed below.   The physical release date for Magnificent Adventures will be confirmed shortly.   The album's first single, "You In A Song," has already been added to Sirius' Coffee House and Pulse channels.
Jason Reeves upcoming tour dates:
Tue           July 1                             Iowa City, IA                             Englert Theatre
Sun           July 6                             Chicago, IL                                   Schuba's
Tue           July 8                             New York, NY                       Canal Room
Wed         July 9                             Philadelphia, PA                     Tin Angel
Thur         July 10                         Vienna, VA                                   Jammin' Java
Fri               July 11                           Nashville, TN                         3rd & Lindsley
Sun           July 13                         Atlanta, GA                                   Eddie's Attic
Mon         July 14                         Fayetteville, AR                       The Music Hall
Tue           July 15                         Dallas, TX                                       House of Blues
Wed         July 16                         Austin, TX                                       Stubb's BBQ
Fri               July 18                         Denver, CO                                 Walnut Room
Sat             July 19                         New Mexico, NM               Ralli's 4th Street Pub
Mon         July 21                         Phoenix, AZ                                 Rhythm Room
Sun           July 27                         Seattle, WA                                 The Triple Door
Tue           July 29                         San Francisco, CA             Great American Music Hall
Wed         July 30                         Los Angeles, CA                 Troubadour
Thur         July 31                         San Diego, CA                         Soma