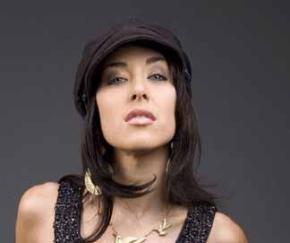 This week I got to hang with Traci Root in her hometown of Nashville, TN. Traci was introduced by Skope's good friend & mentor Steve Waite from the band, Sweetbird. Traci's sound is R&B fusion with various genres mixed in. We talk about gas prices, the Internet, religion, marriage, and much more!

Stoli: I am very impressed with your presentation and Media Kit. What happened in life that made you pursue music with such passion & drive?
TR: Well, I've been performing since I was 5 years old on stage and before that for family.   I remember the first musical my mother took me to – Annie.   She asked me if I would like to do something like that.   At first I said, "No", but then immediately went home and began singing the songs and acting out the parts.   I overcame the initial performance anxiety very quickly. Soon the stage was a second home and as comfortable as performing in my own living room.   I think I was even more drawn to becoming an original artist though, because I loved the idea of being true to yourself and your creative essence. It seemed more real to me and singing was the thing that seemed to give me the most joy and bring life and joy to others. When I was 19 I had a dream that really cemented my passion and drive. I haven't looked back since…
Stoli: How were your parents when you told them that you wanted to be a musician?
TR: I kind of always was involved in performing arts.   Over time I just moved in this direction with increasingly more determination.   I think they saw the talent and the commitment and have just been naturally very supportive. If they had reservations in the beginning, they kept them to themselves. Now they are 100% behind me.   I am blessed!
Stoli: You have played shows all over the world. How do you get these venues interested in booking you?
TR: My husband and I were involved in missions work with YWAM (Youth With A Mission) through my travels I built a lot of relationships and opportunities opened up that way. It's no different here in the US   it's all about having the talent, packaging it professionally and most importantly the relationships and connections to make it all happen.
Stoli:   I hear various influences in your sound. Who did you grow up listening to?
TR: I was very influenced by classic R&B and black gospel. My mom and brother would make me sing James Brown before bed…they would laugh and laugh.   I remember singing Stevie Wonder's "I just called to say I love you" it was the first time my big brother complimented me on my singing ability.   It was ironic because my grandparents listened to country/bluegrass, my older brother to hard rock/metal, my dad to Simon & Garfunkel and The Eagles and I was watching Yo MTV Raps with my little friends and listening to this whole spectrum of music.   I loved the power and joy I felt when I attended the black church.   I was very influenced by Call & Response, which of course led me into jazz – but yeah, Stevie Wonder, Al Green, Otis Redding – I know all of their songs by heart.
Stoli: When you are writing a new song. How much does your real life come into play?
TR: Most of the time my songs directly relate to personal experience – if not my own then something someone close to me may be going through, whether or not they are situational or story-based they are usually directly connected to my personal growth.   I think because of that they are easy for most people to relate to – part of the human experience.
Stoli: How much has the Internet played in helping you to promote your music?
TR: It has been my main source of promotion.   It is cost-effective and it is where most of my fans turn for information, so the answer would be, a lot!
Stoli: You are very attractive, have you had to deal with any fans trying to get too close to you on or off the stage?
TR: First of all, thank you.   Secondly, no, not really.   I am married and have a great support system. People are watching out for me everywhere I go. I also like to think I present myself as someone who is very open and approachable without giving fans the impression that I'm "available."   While there has been a time or two in the bars where it is clear that someone is trying to come on to me, it's dealt with so quickly, and hopefully in a way that leaves them feeling good about themselves without getting the wrong idea. I firmly believe that security imparts security, so I try to receive compliments graciously and communicate clearly my marital status. :)
Stoli: What is the key to having a nice marriage and also pursuing your musical passion?
TR: For my husband and I the key is our faith, good communication and sacrificial love.   It is NOT easy, but we are committed and very supportive of one another.   We look at our relationship as one way that we are blessed on earth in order to be a blessing to others. We are very open and honest and we recognize that sometimes I may need more support and time and he gives me that, and sometimes he needs it and I step back and give him that. He understands that this isn't just a hobby or passion for me, but a calling.
Stoli: You are a proud Catholic. Are you afraid that will alienate fans from other religions to your music?
TR: First off, I am not Catholic in the sense I think you mean, in other words I'm not a member of the Catholic church, though I recognize the world-wide catholic church.   I was not raised Christian, I had an experience with God when I was fourteen that led me to begin a relationship with Jesus Christ and start following in his footsteps. I am open to sharing that story with anyone who is interested.
I am not afraid of that alienating people of other faiths.   My faith is an integral part of who I am, but it is not something I expect people to evaluate my music by.   I am loved by and love friends of many different faiths.   I see my music as something that defies stereotypes and hopefully crosses many man-made boundaries, such as ethnicity, faith, gender, age, sexual orientation.   Love, I believe is the most excellent way.   And I hope people that know me and follow my music feel loved more than anything else.
Look, did The Beatles alienate people, did Bob Marley…maybe a few, but most would agree their music was amazing, God-given – whether or not they recognized the source of their creativity, I don't know, but it certainly won't keep me from enjoying their talents, even if there's a song or two where the lyrical content doesn't match my ideology.   I hope and believe most listeners will agree as they listen to my tunes.
I couldn't imagine not enjoying nature or any beautifully created thing just because I didn't agree with it's creator on every facet of life…a little silly if you ask me.
Stoli: What musical accomplishment are you most proud of to date?
TR: That's a good question. I'm always so forward-looking I forget to reflect on things like this.   I mean, I'm now an award-winning songwriter, I've won competitions here and there, but I think I'm most proud, or fulfilled should I say, after a live show when the crowd is glowing and excited and full of life and they are so happy they came!   I think every time a new song is birthed…that's an amazing process.
Stoli: How much will high gas prices effect traveling musicians like yourself?
TR: Already have effected me and others like me.   The issue is we book shows 6-12 months in advance…you can't account for the inflation of gas prices that far in advance.   It eats into my touring profit like nobody's business, so it's confining us a bit more in terms of travel.   Not to mention airfare and how do you get instruments, merch and personal belongings into one bag and a carry-on.   But I always try to look at the positive – for every problem there's a solution…hopefully I can think of it first, patent it and make millions! Ha!
Stoli: What was the last live show that you saw & where?
TR: Marc Broussard, Nashville TN.   My friends play with him.   He's an old soul in a young body like me.   Very funky, very soulful.   Just signed with Atlantic, my friend produced his last two albums.   I'm a fan – I hope to work with him in the future.
Stoli: What can we get excited about from Traci Root for 2008 & beyond…
TR: World wide domination!   Ha!   No, I think it is in my nature to constantly improve; to become better in every way.   We will be releasing and EP this fall called Love Hard with 6-7 of the new tunes I am performing out right now.   I believe you can get excited to see, not only innovative new contributions to the musical culture and landscape of our nation but also great contributions to society.   I believe strongly in working to abolish child-sex trafficking and believe strongly in being true to who I am as an artist.   Both drive me to create passionately and to excel..it's not just about making good albums; it's about releasing sounds that transform us. Like my musical hero Stevie Wonder – he is associated with love, peace and musical genius. Who in this country can't at least hum along to his tunes? Did I mention he and I share the same birthday?   I love you Stevie…and I love you Skope Magazine! Peace and thanks for reading!!!