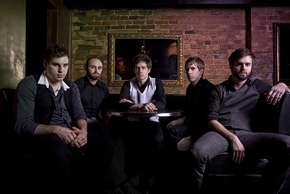 When you hear a new band for the first time, it's only natural to try to place it in context with the familiar. Upon first listen, Springfield, IL's The Graduate may drum up images of print hoodies and guyliner, but the truth is, this humble five-piece is simply a bold rock band experimenting with a myriad of sounds that move them. Given this, allow yourself to be introduced to The Graduate.
Formed in 2005 from the ashes of several other bands, The Graduate is a collaboration between long-time friends Tim Moore, Corey Warning, Matt Kennedy, Max Sauer and Jared Wuestenberg. The band gained momentum quickly on the Midwest 'indie-circuit' due to the memorable songs, interactive live show and friendly disposition of its members, eventually landing on the cover of CMJ in late 2006. The Graduate has been featured several times the Myspace music homepage over the past year, and has been a winner on MTVu's "The Freshmen".
 
"I Survived" – Windows Media Player:
Don't Miss The Graduate when they roll through your town!
July 11                                           Los Angeles, CA                     Troubadour
July 12                                           San Diego, CA                           Soma
July 13                                           Tucson, AZ                                                   The Rock
July 14                                           Albuquerque, NM                     Launchpad
July 16                                         Corpus Christi TX                   Brewster Street Ice House  
July 17                                         Dallas, TX                                   Granada Theater
July 18                                           San Antonio, TX                   Scout Bar
July 19                                           Oklahoma City, OK               The Conservatory
July 20                                           Cordova, TN                                 Infinity
July 22                                           Atlanta, GA                                                 Masquerade
July 23                                           Charlotte, NC                           Amos South End
July 25                                           Ft. Lauderdale, FL                                 Culture Room
July 26                                           Jacksonville, FL                       Jack Rabbits
July 27                                           Orlando, FL                                 The Social
July 29                                           Columbia, SC                         Headliner's
July 30                                           Fayetteville, NC                     Jester's Pub
July 31                                           Greenville, SC                         The Handlebar
August 1                                       Norfolk, VA                                                   The Norva
August 2                                       Richmond, VA                       Canal Club
August 3                                       Towson, MD                               The Recher Theatre
August 5                                       Philadelphia, PA                     The Trocadero
August 6                                       New York, NY                         Blender Theater at Gramercy
August 7                                       S. Burlington, VT                 Higher Ground
August 8                                       Hartford, CT                             Webster Theatre
August 9                                       Clifton Park, NY                     Northern Lights
August 12                                     Lancaster, PA                           The Chameleon Club
August 13                                     Cleveland, OH                       Agora Ballroom
August 14                                     Grand Rapids, MI                 The Intersection
August 15                                     Detroit, MI                                                 Magic Stick
August 16                                     Chicago, IL                                                 Metro
August 17                                     Green Bay, WI                       Riverside Ballroom
August 19                                     Madison, WI                               The Loft
August 20                                     St. Paul, MN                           Station 4
August 21                                     Omaha, NE                                               Sokol Underground
August 22                                     Colorado Springs, CO       The Black Sheep
August 23                                     Murray, UT                                                   Murray Theater