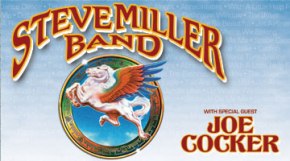 Steve Miller Band and Joe Cocker Rock Out at Verizon Wireless Music Center. Steve Miller, Joe Cocker—two men in their middle sixties prove that age is nothing more than just a simple number.  
Joe Cocker opened up for Steve Miller Band at Verizon Wireless Music Center in Noblesville, IN on Saturday, June 28.   I have to say that I was nothing short of amazed by both performances.
Joe Cocker came out to the stage with his band and he was dressed all in black—reminded me of Johnny Cash.   Cocker's graspy and flaring voice along with his uncontrollable hand movements were all in place on that warm, summer night.   Mr. Joe Cocker was feeling his music in a big way and I, along with the thousands of fans there that night, were getting the message loud and clear.   This by-product of the peace and love generation, playing at the first Woodstock, can still play his heart out and it showed Saturday night.   I was really impressed by his versions of The Beatles, "She Came In Through The Bathroom Window" and "Come Together".   Two incredible songs by one of the best bands ever and Joe Cocker nailed them!   Also worth noting, the famous version of The Beatles "With Alittle Help From My Friends" made famous by Cocker and the show "Wonder Years" is just a classic that takes you back.   The famous Cocker scream during part of the song was not just attempted that night, but accomplished by the man dressed in black–Way to go Joe!   He also performed a fantastic version of "Feeling Alright", having an upbeat, Michael Mcdonald feel to the song.   Two other songs played were "Unchain My Heart" and "You Are So Beautiful", leaving a tender sentiment throughout the air.  
Next up, the one and only Steve Miller Band.   You can't help but be entranced by their sound once Steve Miller starts singing and playing that guitar–not to mention a great band to back him.   They played hit after hit including:   "Take The Money And Run", "Rockin' Me", "Swingtown", "Jet Airliner", "The Stake" and "Dance Dance Dance".   And who can forget "The Joker"–oh yes and that very cool gangster of love sound—crowd undoubtedly went nuts for this song.   Steve Miller Band also did a very cool and extremely long set of "Fly Like An Eagle", which was my favorite of the night because of the musical creativity to go beyond the norm of the original song.   Also enjoyed a song called "Shubada Du Ma Ma" because of its easy-going and just plain fun feel to the song.   And the fun was just pouring out of Steve Miller as you could see he was just having a blast up there with his band and loved playing music to his fans.   Someone else was having a great time on stage by dancing and grooving to every chance he had and this was a new member by the name of Sonny Charles.   He was introduced by Steve Miller and really brought the energy to the show with his fun and free spirited attitude.   Sonny Charles even sang a couple of new songs himself, off a new Steve Miller Band album still in the works, and one I remembered well was a cover of a Bo Diddley song.  
Overall from Steve Miller Band, I got a sense of rock, blues, country, funk, psychedelic, soul, and just fun listening music all wrapped up together to   make up one hell of a band.
It was a great night of music at Verizon Wireless Music Center by two great acts and that's really all you can ask.   Joe Cocker and Steve Miller at 64 and 65 don't seem to be slowing down anytime soon, so watch out music world!   Check out Joe Cocker's latest album, Hymn for My Soul along with Steve Miller Band's new DVD, Steve Miller Band Live From Chicago.   Also, don't forget that Steve Miller Band will have a brand new album coming out with Sonny Charles added to the mix.   For more info on the artists, go to www.stevemillerband.com and www.cocker.com.  
I give this concert 4 and a half Skopes only because Steve Miller Band didn't do one of my all-time favorite songs, "Serenade" but it's on the new DVD so just might have to pick that up.   But, never the less both acts put on one fine show and definitely a night of music to remember
Review By: Jimmy Rae – jrae23@comcast.net