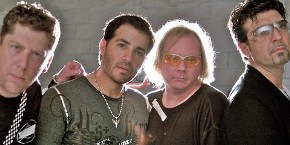 The legend of the Phoenix reads something like this: in Phoenician mythology a fiery bird with a 500-year lifespan eventually dies after igniting its nest (and itself) only to be reborn from its own ashes.
And while the punk-pop/electronica outfit Phoenix Block isn't the thing of mythology, the sound they've achieved on their debut Chemtrails is fresh and new and in a way reborn.
"Steve and I had a certain approach to songwriting that we had developed and we were interested in working with Tony to see where he took that," said vocalist Andrew Jaffe. "Tony took more of an electronic, European spin on his production. He developed more of a layered sound."
Phoenix Block, the collaboration of lifelong friends Andrew Jaffe and Steve Schoeffer combined with Italian producer and multi-instrumentalist Tony Catania and drummer Darrell Nutt, are set to release Chemtrails, a 14-track amalgam of hook-in-mouth melodies, cutting edge electronica and contemplative lyrical content.
 
"Lyrically Chemtrails runs the gamut," Andrew said. "There are a lot of issues in my songwriting–some are more obvious and some are more abstract. And instead of telling a listener what they hear, I think it's more important for the listener to interpret for themselves."
Album standout, "Future calling" perhaps displays Phoenix Block's available musicality best, with eerie opening synth, soaring guitar riffs that open to the melodic chorus. The sum of the parts is reminiscent of Coldplay, with clever U2-ish guitar work and Jaffe's approachable vocals. A YouTube video was shot for the track and it has been featured in a picture montage video for the Barak Obama campaign.
While Phoenix Block is currently working on replicating the album for their live shows to come, Andrew went on to say: "We don't actively play out say on any club scene…we've all played out live, but this was a studio effort and that's been the focus for the last year. We want to get some traction with the songs on radio and then we're looking to support that with live performances."
Chemtrails is making its radio launch as of this interview with the full debut release next month, supporting live shows coming soon.  
By: Chris West – cwest@skopemagazine.com
Future Calling:
[youtube oG6e2fOvajg nolink]