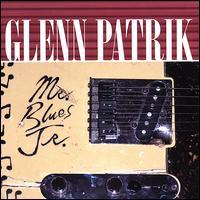 As music news organizations bombard everyone with the latest figures of declining CD sales and treat it as a death watch for the music industry, there is actually something more troubling going on today. What is it? The lack of attention being paid to blues music–by both the public and the record labels. What's most criminal now is with so many of the greats from yesteryear passing on (most recently, Bo Diddley, RIP) who will carry the torch and keep blues music alive in the future?
Well, while that question can't be answered completely here, there is good news to report as Kansas City bluesman Glenn Patrik has stepped up to the plate by releasing his first solo CD. Despite Mr. Blues Jr. being Patrik's debut, he is no mere newcomer though as he has performed with numerous bands and blues giants in his 40 years in the business and this is most apparent listening to the new CD.
Mr. Blues Jr.'s opening track "Talking to Me" is top notch with its opening B.B. King-inspired guitar licks and Patrik's soulful vocals that remind one of Robert Cray. Even better, however, is "4 AM O'Clock Reflection Blues" which is a rollicking number that is beautifully rough in a John Lee Hooker way with great guitar work by Patrik along with solid keyboard playing by Mike Malone.
The biggest drawback to Mr. Blues Jr. is the fact that it is too short as only one song lasts longer than four minutes. It would have been good to hear more from Patrik here, especially since he has been around the blues for so long. Still, Mr. Blues Jr. is a solid debut and something for Patrik and his tight band to build on because they have their work cut out for themselves in trying to keep the blues as an art form alive.
Review By: Todd Sikorski
[Rating: 3.5/5]