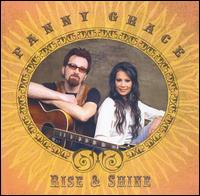 Fanny Grace, a country-rock outfit consisting of songwriter/guitarist Paul Reeves and singer Carmen Mejia, has been around for more than a decade but it seems stardom has always been just around the corner for them. The duo's popularity has never grown much past a small but faithful following–despite their opening for country icons Willie Nelson and Kenny Chesney and classic rock favorites Steve Miller and Joan Jett in the past.
Things might finally be changing for Fanny Grace though as they have released a fine country CD entitled Rise and Shine. Adding to the luster of the release is that it was produced by John Carter Cash, the Man in Black's son, and it was even recorded in the elder Cash's famed Tennessee cabin.
This Cash ambience must have been special for Reeves and Mejia because they crafted some great contemporary country songs for this release. Delicious harmonies abound on songs like "Counting On Love" and "Soon Be Home" and the fiddle, banjo, and mandolin battle for time in strong tracks like "Get Along" and "Don't Want It All."
That said, the track that must people will gravitate to is "My Cowboy's Last Ride" which was actually written by the Man in Black years ago but never released. The song is most interesting because it is written with a female point of view and Mejia's sincere vocals work perfectly with the heartfelt lyrics.
It can be argued that Rise and Shine is not ground breaking musically as the Dixie Chicks have done stuff like this extremely successfully for years. Still, there is no filler here as all twelve songs on the CD are good and if there is any justice in the country world, Fanny Grace will be enjoying a much bigger success than ever before.
Review By: Todd Sikorski
[Rating: 3.5/5]