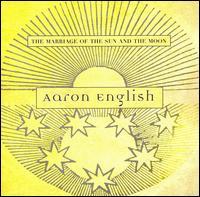 Seattle has been home to some of the most influential rock musicians ever. Think Kurt Cobain, Eddie Vedder, and Jimi Hendrix. Because of those three, it must be hard for many musicians from the Emerald City to be taken seriously. That does not seem to be a problem for Seattle-based singer-songwriter Aaron English though as the talented, piano player has perfected a sound for himself that is fresh and rather exciting.
 
Need proof of that. Just listen to his newest CD The Marriage Of The Sun And The Moon which shows English is not your normal staid singer-songwriter as he writes songs with complicated arrangements full of world beat and rock music elements. Some people have compared his music to Peter Gabriel and while that is apparent at times, it shortchanges English's uniqueness.
The best example of English's talents is heard on the track "Brittle" which is a sonic delight that features a soaring electric guitar, a nice but understated flute, and great bass and percussion work. Other songs follow through with this complex approach with the addition of distinctive instruments such as violin (the title track), hurdy-gurdy ("Like Smoke"), and the lute and kalimba (a cover of the Police's "Message In A Bottle.")
If there is a weakness to the songs on The Marriage Of The Sun And The Moon, it has to do with English's vocals which are not as impressive as the music behind it. Don't read this as English being a horrible singer though. He has a good range who can hit the low and high notes but he does tend to come across as too bombastic on certain tracks here which distracts from the songs' fine arrangements.
That said, his best vocal performances come on the CD's simpler songs, the piano ballad "Me And My Rainshadow" and the acoustic pop number "God Bless You And Your Man," where his subtlety reign supreme.
Review By: Todd Sikorski
[Rating: 3/5]