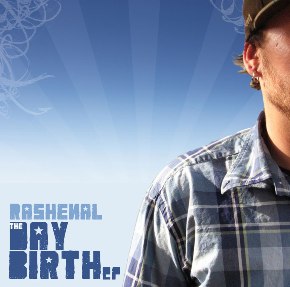 Rashenal's debut EP entitled "Day Birth" from Earsweat Records will be hitting store shelves Tuesday July 29 2008.
The Day Birth EP is a collection of Rashenal's favorite tracks from different projects that never ended up getting released. This hip hop project features production from Courdek, Jelts, and DJ Casper. Rashenal says, "…there have been a lot of tracks recorded over the years but these are my personal favorites that I think represent important moments in my music."
Most hip hop music nowadays can easily be simplified to mimicking already established sounds and images because it's easier for the majority of the public to digest. Very few step outside the cookie cutter and create their own existence based on real music from the soul and personal experience. Earsweat Records latest release "Day Birth EP" from artist Rashenal is a new mold and a step forward, where this artist creates genuine material to contribute to the culture and art form itself.
Earsweat Records also just released artist Jelts' new EP entitled "Music For Her" in May 2008. Last September Earsweat artists Jelts and Idolize traveled to Berlin, Germany to play Popkomm 2007. In addition, Earsweat Records also runs a Tuesday night hip hop spot in Tempe called Gallery Blu re:DEF at Stray Cat Bar & Grill with local and touring live acts.