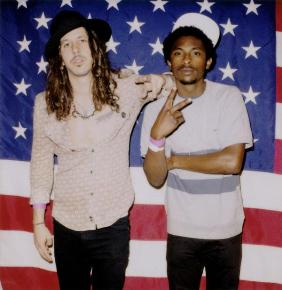 Meet MTV's newest comedic ensemble as the channel premieres "Buzzin'," a new reality series starring music artist Shwayze, his best pal and producer Cisco Adler, their partner in crime, tour manager Warren Gumpel and their manager head of Suretone Records, Jordan Schur.
Beginning Wednesday, July 23 at 10:30PM ET/PT, fans can catch the misadventures of Shwayze, his wingman and music partner Cisco, best buddy Warren and manager Jordan as they define a whole new California sound. And rounding out the Wednesday night line-up, "Run's House" returns with new episodes premiering July 16 at 10pm ET/PT.
Showcasing the long road from the trailer park to the top of the charts, "Buzzin'" follows the unlikely pair – Shwayze, the self-described "only black kid in Malibu" and Cisco, the seasoned singer/producer and regular tabloid bad boy – and their crew as their path to stardom hits all the twists, turns and bumps along the way.   The music and madness get underway as the boys and their fresh Cali sound get ready to debut their self-titled album on August 19 and as their first single, "Buzzin'" continues to climb the charts. Trying to keep them on track is their tough manager and label honcho, Jordan Schur who has taken artists like Ashlee Simpson and Limp Bizkit all the way to the top. Also along for the ride is their resident right-hand man, tour manager and comrade, Warren. When they guys are in a jam, count on him to be the man with the plan – even if the plan causes more problems than it solves.
The first episode will be available for free on instant release on iTunes, Xbox Live and Amazon for a week beginning July 15. All eight episodes will be available on instant release the day after their on-air premiere. Fans will also be able to feel the buzz at http://www.buzzin.mtv.com/ with exclusive trailers and extended scenes from each episode shot by the cast on their vlog cameras, cast bios and pictures, sneak peaks of Shwayze's new music video and exclusive performance footage of songs from the new album, including their TRL performance. Viewers can also get personal with the cast and create their very own Buzzin' profile through IamOnMTV.  
Also, kicking off another season, MTV welcomes back a fan favorite as Rev Run and his family return with back-to-back episodes of "Run's House" premiering Wednesday, July 16 at 10:00 PM ET/PT. The tight-knit Simmons clan once again opens the door for fans to watch the jubilations and tribulations of the royal family of hip hop.   Season five picks up with the Simmons' blazing new trails across the map. Viewers will get a rare treat when Rev Run relives the glory days joining pal Kid Rock on tour, as Justine holds down the fort in Saddle River with new addition, baby Miley. Vanessa and Angela who are now living the bi-coastal life as they balance their expanding Pastry shoe and clothing line with Vanessa's acting gigs, and JoJo continues his pursuit of hip-hop stardom as Team Blackout grabs the mic and prepares to take center stage, while Diggy embraces his inner tween and Russy proudly accepts his role as big brother extraordinaire.   But rest assured the Simmons family will endure all the chaos with love.  
The fourth season averaged a 1.59 P12-34 and ranked #1 in its time period (Thu/10-11p) among P12-34 versus all cable competition. "Run's House" has reached over 67.1 million total viewers (P2+) with over 34.2 million from its P12-34 core.
"Buzzin'" is produced by Suretone Entertainment and Hoosick Falls Productions; Jordan Schur of Suretone Entertainment and George Verschoor of Hoosick Falls Productions serve as executive producers; Mike Powers serves as executive producer;   Andrew Freston is co-executive producer; Liz Gateley and Valerie Elustondo are the MTV executives overseeing production. Steve Bilchik is the MTV talent executive overseeing the project.
Jason Carbone is executive producer and Nick Lee is co-executive producer of "Run's House."   Mike Powers serves as executive producer.   Jacqueline French and Valerie Elustondo are the MTV series executives overseeing the project.     Tony DiSanto and Liz Gateley are executive producers.     Russell Simmons, Stan Lathan, Will Griffin, John Davies, and Sean "Diddy" Combs serve as creators and executive producers.
Link to "Buzzin'" trailer:
[myspace 37597550 nolink]
"Buzzin"
[youtube du7zeh8b_Do nolink]