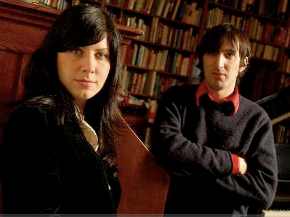 Courtney Kaiser and Benjamin Cartel have logged thousands of miles, lost continents, parted ways with rock stars, formed and broken up bands — all for you to hear March Forth, the debut from the duo.
They live in Brooklyn, the part of Brooklyn where melody reigns, whistling is compulsory and anything (like a milk frother) could be considered an instrument. Rather than conjure the twee miasma that those ingredients could create, KaiserCartel have constructed a gorgeous album of songs about living and loving, something they know about, as their musical and romantic lives are so entangled, it's difficult to say where one starts and the other begins.
But March Forth and the romance that nourished it might not have occurred. Placed on the same bill one evening at the Knitting Factory, each missed the other's show, but chatted briefly. Months later, they would meet again at yet another show, then struck up a correspondence in earnest. "Then, finally, on March 4th, we hung out for the first time. We played music that we recorded but never put out, and traded ideas," explains Kaiser. The pair decided to hit the road with little more than a car and their instruments, and traveled the country spreading the gospel of Courtney Kaiser and Benjamin Cartel, each playing on the other's songs. When they returned, they began writing songs together. "We go back and forth between writing on our own and writing together. But I feel like we're so influenced at this point, even if [Ben] wasn't there, you'd be able to feel the song is – something about the song is very 'us' together," explains Kaiser.
"Oh No":
[youtube Ks0T9cu30Yk nolink]
KAISERCARTEL SUMMER US TOUR
7/03 – Chicago, IL @ Schubas
7/04 – Milwaukee, WI @ Summer Fest
7/05 – Des Moines, IA @ 80/35 Festival
7/07 – Lawrence, KS @ Replay Lounge
7/08 – Kansas City, MO @ Record Bar
7/11 – Minneapolis, MN @ Macy's Day of Music
7/12 – Madison, WI @ The Terrace – Wisconsin Union/University of Wisconsin Madison
7/13 – Minneapolis, MN @ Bryant Lake Bowl (3 PM Childrens show, 8PM & 10PM shows)
7/14 – Champaign, IL @ High Dive
7/16 – Nashville, TN @ The Basement
7/17 – Cincinnati, OH @ The Gypsy Hut
7/18 – Grand Rapids, MI @ Discussions Coffeehouse
7/21 – Memphis, TN @ Hi-Tone Cafe
7/23 – Austin, TX @ The Beauty Bar
7/24 – Houston, TX @ Avant Garden
8/01 – Tucson, AZ @ Plush
8/02 – Santa Monica, CA @ McCabe's (with Carrie Rodriguez)
8/03 – San Diego, CA @ Anthology (with Carrie Rodriguez)
8/04 РLos Angeles, CA @ Hotel Caf̩ (with Carrie Rodriguez)
08/11 – Salt Lake City, UT @ Kilby Court
08/14 – Colorado Springs, CO @Shuga's
08/21 – Chicago, IL @ Schubas (co-headlining with Lucinda Black Bear)
09/09 – St. Louis, MO @ Ciseros
09/12 – Ft. Collins, CO @ Road 34
09/13 – Denver, CO @ Monolith Festival