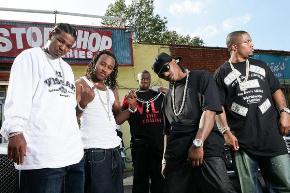 After establishing himself as one of hip-hop's most visible acts, B.G., the man whose "Bling Bling," song became a national phenomenon and whose tremendous success as an independent artist helped secure a major label solo deal with Atlantic Records is releasing a 17-track compilation album via his Chopper City imprint Life In The Concrete Jungle featuring B.G. & Chopper City Boyz (Snipe & Gar), Lady Dolla, C-Murder, Alfamega, Blood Raw, Rocko, Hurricane Chris, Skip, and a whole lot more.
With Chopper City Boyz's new distribution deal through Asylum and B.G.'s Too Hood 2 Be Hollywood release coming soon on Atlantic Records release, this was the right time for Chopper City Records to release a compilation to keep the momentum in the streets until their next albums drop.   "Everybody knows The Chopper City Boyz in the south because they've made appearances on my last four studio albums before releasing their own debut album, We Got This, so people were waiting for something from them," expresses B.G. "I decided to sign them to Chopper City Records because they showed me their loyalty as artists and they were willing to put in the hard work that it takes to make it in this industry."
"Bubblegum": Dirty version
Carol Dorsey, CEO of the label along with B.G. expands, "On this compilation, you hear a more advanced, more mature Chopper City Boyz. Although B.G. is featured, you really hear Chopper City Boyz's sound. The first single from the compilation, 'Bubble Gum,' featuring B.G. & Chopper City Boyz with Lady Dolla, produced by Joe Blow da C.E.O., showcases The Chopper City Boyz's versatility."
 
"Most of the tracks on our album are gritty street bangaz so we decided to flip our sound from what the fans would expect for the first single, 'Bubble Gum," expresses Gar.   "We have a special relationship with the shorties, so we couldn't forget them. Bubble Gum was a little something for them to bounce to."   Snipe adds, "We branded ourselves a whole lot more this time with this compilation and we're gearing up for our sophomore album.   Now that fans are more familiar with our music, I got a lot of people coming up to me and asking when will there be another Chopper City Boyz album, so I know they're expecting us and we gonna give them some heat to hold onto until our albums drop."
 
"The Chopper City Boyz have stepped up their game since the last album," expresses B.G. "We got enough bangas for their second album that we could afford to put a compilation of even more hot tracks for the streets.   The streets have spoken!   They're ready for more of Snipe and Gar, so as the Head N@%$a In Charge, we gonna give 'em a little taste on how they comin for their 2nd album!!!"
 
www.MySpace.com/ChopperCityBoyz.