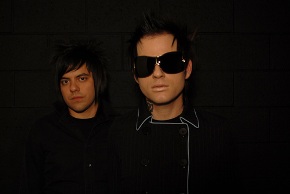 From the burgeoning Phoenix music scene comes a band whose unmistakable sound and flamboyant style makes them, at once, supremely original and strikingly familiar.
Comprised of vocalist Chris Donathon, guitar/keyboard player Hector Bagnod and guitar/keyboard player/D.J. Storm Logan, The Medic Droid encapsulate the very best elements of their electronica/new wave forefathers, while simultaneously carving their very own niche in today's overcrowded, underwhelming music scene.
Formed by Donathon; a masterful painter and visual artist as well as a gifted vocalist; in 2006 on a lark, the positive response to his first single ("Fer Sure") was staggering. Realizing he stumbled upon something quite special, he enlisted the help of close friends Logan and Bagnod to round out the group. Less than two short years later the band has sold over 37,000 singles on ITUNES and has had well over 8 million plays on their MYSPACE page.
The Medic Droid w/ Kill Hannah Innerpartysystem, & The White Tie Affair
July, 8   The Blue Note (Columbia, MO)
July, 9   Bricktown Ballroom (Oklahoma City, Ok)
July, 10 Marquee (Tulsa, OK)
July, 11 Granada Theatre (Dallas, TX)
July, 12 Meridian (Houston, TX)
July, 13 Scout Bar (San Antonio, TX)
July, 15 The RocK (Tucson, AZ)
July, 16 The Brickhouse Theatre (Phoenix, AZ)
July, 17 SOMA (San Diego, CA)
July, 18 Glasshouse (Pomona, CA)
July, 19 El Rey (Los Angeles, CA)
July, 21 Bottom of the Hill (San Francisco, CA)
July, 22 The Boardwalk (Orangevale, CA)
July, 24 Hawthorne Theatre (Portland, OR)
July, 25 El Corazon (Seattle, WA)
July, 26 The Boulevard (Spokane, WA)
July, 27 The Venue (Boise, ID)
July, 28 Club Sound (Salt Lake City, UT)
July, 29 Marquis Theatre (Denver, CO)
July, 31 Rocketown (Nashville, TN)
August, 1 Masquerade (Atlanta, GA)
August, 2 The Social (Orlando, FL)
August, 3 Culture Room (Ft. Lauderdale, FL)
August, 4 State Theatre (St. Petersburg, FL)
August, 5 Jack Rabbits (Jacksonville, FL)
August, 7 Tremont Music Hall (Charlotte, NC)
August, 8 Chameleon Club (Lancaster, PA)
August, 9 The Chance (Poughkeepsie, NY)
August, 10 The Trocadero (Philadelphia, PA)
August, 12 The Recher Theatre (Towson, MD)
August, 13 The Stone Pony (Asbery Park, NJ)
August, 14 The Blender Theatre (New York City, NY)
August, 15 The Opera House (Toronto, ON)
August, 16 Mr. Small Theatre (Pittsburgh, PA)
August, 17 Agora Ballroom (Cleveland, OH)
August, 19 The Crofoot (Pontiac, MI)
August, 20 The Intersection (Grand Rapids, MI)
August, 21 The Eagles Club (Milwaukee, WI)
August, 22 Station 4 (St. Paul, MN)
August, 23 Metro (Chicago, IL)
 
www.myspace.com/themedicdroid