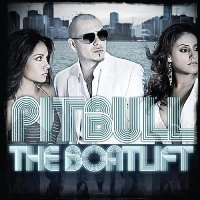 Musicians often find it difficult and maybe even tedious classifying their music into a particular genre. Pitbull, the artist who professes he's "Too Latin for hip-hop/too hip-hop for Latins," is no exception. The Cuban-American rapper defies genre defining boundaries on his latest album, The Boatlift.
"Go Girl" featuring Trina and Young Bo$$ is a catchy song with a hot club sound. It's a solid piece that doesn't need a remix to hold its own as a dance track. "Dukey Love" on the other hand is a less than enjoyable song that is three minutes and 46 seconds of non-stop rear-end admiration. Needless to say the track grows old rather quickly. Luckily, Pitbull isn't a one trick pony. His softer side is prevalent on "Secret Admirer" and his Latin roots unearth themselves on tracks like "Get Up/Levantate," which asks, "if you didn't come to dance then what did you come for?" The upbeat, clap infused track will make you want to get up and, well, dance.
All in all The Boatlift is a fairly well rounded album as there's a little something for everyone. Having said that, featuring so many guests on one album simultaneously promotes and hinders Pitbull's seeming intentions. Collaborations can be great. In fact, some of the world's best music has stemmed from innovative collaborations, but when an album is comprised almost entirely of musical unions it becomes distracting and at times can make you forget whose album you're listening to. While I can appreciate the wide spectrum of music produced on The Boatlift it feels as though sharing the spotlight with so many guests inhibits Pitbull from showing people what he has to offer all on his own.
Review By: Esperanza Juarez
[Rating: 3.5/5]