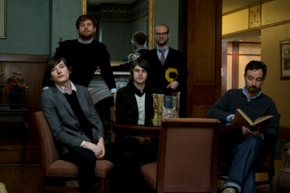 Koufax is set to release its latest full-length album Strugglers on September 23rd via Doghouse Records. The brainchild of Robert Suchan and his ever-rotating cast of players, Koufax has received acclaim for its unique incorporation of genres from decades past along with witty and insightful lyrics.
Viewing the American landscape from his Czech Republic outpost, Suchan crafted a 10-song collection of hip-shakin' rock and indie-pop bliss that is sure to be one of this fall's must-have albums.
Strugglers, the band's fourth album, kicks off with Looney Tunes inspired horns on "Any Moment Now"- the first single to be released digitally August 5th. The infectious track is what Suchan refers to as "an attempt at an updated 'I'm Waiting for the Man.'" Another highlight is "Roll the Dice," with its sincere political musings in the guise of an indie-pop song. A pop song with mandolin that mentions Jean-Paul Sartre and George Orwell, that's Koufax.
Written by Suchan in the fall of 2007 while living in Prague, Strugglers delves into political and social commentary through narratives tackling the party hopping drunk ("Drivers"), deluded Hollywood-types' reign over pop culture ("California Taught Us Well") and the condescension that is found in so many of the "truth movements" ("Strugglers"). With lyrical strength and a delivery that Rolling Stone calls "dramatic, Morissey-like crooning," Suchan ranks as one of the most talented frontmen in the game.
Koufax has been performing internationally for the last 8 years playing 14 countries, numerous festivals, and tours with bands such as Wilco, Bright Eyes, Nada Surf and The Get Up Kids. The guys head out on the road in August including shows with the Smoking Popes. More dates to be added soon. Catch them in the following cities:
Aug
10- Record Bar- Kansas City, MO*
11- The Loft- Dallas, TX*
12- Mohawk- Austin, TX*
14- Rhythm Room- Phoenix, AZ*
15- Knitting Factory- Los Angeles, CA*
16- Slim's- San Francisco, CA*
18- Hawthorne Theatre- Portland, OR*
19- Chop Suey- Seattle, WA*
21- Kilby Court- Salt Lake City, UT
24- Bluebird- St. Louis, MO
* with Smoking Popes
Strugglers track listing:
Any Moment Now
Drivers
What I'm Saying
Name Of Love
Roll The Dice
Strugglers
What We Call Flats
Facsimile
Once In A While
California Taught Us Well