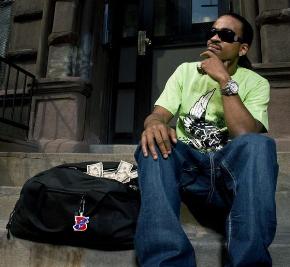 Amalgam Digital, the independent company responsible for launching hip hop's first genre specific digital retail store, brings on Harlem hip hop heavyweight Max B to its label brand's artist roster.  
The intensely confident Max Biggaveli (aka the Silver Surfer aka Wavy Crockett) describes himself as Biggie, Jigga, and Tupac Machiavelli all rolled into one.
Max B had the following to say when asked about his relationship with Amalgam Digital:
"Amalgam Digital is wavy like water! We sooo wavy….   Ooooowwww!"
– Max B
Max's street release "Public Domain III: Domain Pain (The Album)", in stores August 5th, will serve as a prelude to a forthcoming independent debut album entitled "Vigilante Season" on the Amalgam Digital label, which will in turn lead to a third, digital only album (name TBA) which will be available exclusively at www.AmalgamDigital.com.   All three albums are being produced entirely by certified hitmaker Dame Grease, famous for his progressive work with live instrumentation rather than sampling as well as for his distinct work with DMX, Nas, and Freeway.
Max B "Public Domain 3: Domain Pain" (The Album) Amalgam Digital
Track Listing:
01. Paperwork
02. Picture Me Rollin
03. Chase You Home ft. Al Pac
04. Let It Go ft. Al Pac
05. Get Low ft. Al Pac
06. Bad Whiskey
07. Chevy
08. Ready To Ride ft. Mac Mustard
09. Lip Sing
10. Blow Me A Dub (Remix)
11. White As Snow (Grand Cru Anthem) ft. Al Pac
12. I'm G'd Up ft. Henny
MP3 Download link to "Let It Go" f/ Al Pac: