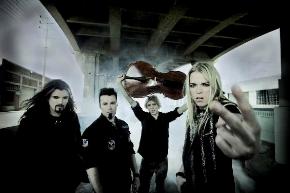 Starting today aspiring ROCKSTARS can enter the APOCALYPTICA "Live The Dream" contest for their chance to join the band on tour as their special guest vocalist!
The Grand Prize Winner will perform the hit "I'm Not Jesus" live on the stage with the band – 5 shows in early August, including a main stage appearance at OZZFEST, August 9 in Dallas, TX. The winner will travel all expenses paid from their home into the first show, then back home after the tour. During this mini-tour, the winner will live on the bus as a member of the band and have a once-in-a-lifetime chance to LIVE THE DREAM!
To enter, singers need to upload video of themselves performing Apocalyptica's hit, "I'm Not Jesus" (from the breakthrough album Worlds Collide) to the official YouTube group (www.youtube.com/group/livethedream), then submit their entry on-line at ImNotJesus.com.
Full instructions, instrumental version of the song, lyrics, etc. are available at ImNotJesus.com.
Apocalyptica will pick the winning vocalist from amongst 25 semi-finalists, which will be the entries with the most overall views.
Apocalyptica "Live The Dream" tour dates
 
Aug 5 2008           The Black Sheep     Colorado Springs, Colorado    
Aug 6 2008           Cain's Ballroom         Tulsa, Oklahoma          
Aug 7 2008           Village Theatre             Little Rock, Arkansas
Aug 8 2008           Antone's                             Beaumont, Texas          
Aug 9 2008           Ozzfest                                 Dallas, Texas
Contest sponsored by Jive Records/Zomba Label Group, Hot Topic, & Revolver Magazine.
 
http://www.apocalyptica.com/
http://www.imnotjesus.com/
http://www.youtube.com/group/livethedream