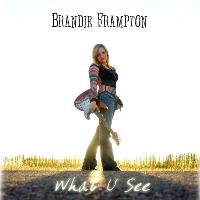 Brandie Frampton comes out swinging on this wonderful country/pop album that she entitled, 'What U See.' The packaging of the CD comes with a DVD with two of her videos from the album. I was very impressed with that. If you did not know it, you would think Brandie was backed by a major.
Coming from Utah, Brandie has the total package in an artist. She has a great voice, she is cute & pretty, and has the drive to succeed in this business. She is still young but I feel that will only work to her advantage. After listening to the CD you can see that you would not mind your son or daughter listening to this music. Brandie displays a very real and positive message through her songwriting.
New Music Weekly called Brandie their, Crossover Artist Of The Year. The industry is seeing her not only as a country star but a pop / mainstream artist as well. This CD is at the top of recording quality. You can tell that Brandie and her team invested in her sound and I say that it paid off.
My favorite track on this CD was the first one, "Ain't That Life."   If this song is not a hit, I am at a loss. Everything about this track is right on for any genre. Another favorite of mine is, "Dreams." This song has a great hook and Brandie's versatility really stands out strong on this one.
For such a young woman Brandi's songwriting is beyond her years. All of her songs are personal and you can hear truth. A favorite of mine in this regard is, "Day By Day." I think Brandi is talking about how although we are all different we are the same too. I also enjoyed, "Butterfly Tattoo" which deals with a young girl turning into a woman. You could tell that Brandie is no stranger to that topic.
By the time the last track on this CD was over, I could not help but start it again. I may not listen to country alot but when I do this is exactly what I want to hear. I am expecting alot more from Brandie Frampton, she is the real deal.
Review By: Mikey Frieds