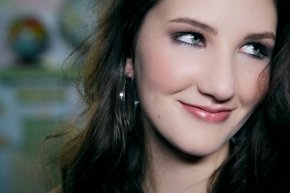 If Katie Armiger's debut self-titled album showcased her undeniable abilities, her second album will make you Believe. Katie Armiger is gearing up to release her second album, Believe, July 1st on Cold River Records.
The 11-track album, which features the previously released single, "Make Me Believe," is a recording that truly captures Katie's ability and growth as an artist both lyrically and vocally. Katie penned 10 of the songs on the album with a talented array of Nashville songwriters including current Nashville Star contestant Ashlee Hewitt, Rebecca Lynn Howard, Jonathan Lawson, and Hunter Davis, among others.
"I have learned so much over the last year and one of the most important things I've learned is that you just have to believe in yourself," said Katie. "It's been an unbelievable year filled with so many challenges and through those challenges I continue to learn more about myself, especially as an artist. This album speaks to those challenges in a way that I hope listeners can relate."
While Believe was produced by Jonathan Lawson, Katie worked with Paul Compton to produce two of the tracks on the album as well. One of which is the first single from the album, "Unseen," currently impacting radio. This album marks the first time that Katie wrote songs on her own, a milestone that does not go unnoticed when you hear the honesty and sincerity in the ballads "Gone" and "Bleed"   that every artist wishes to portray in their music.
Fans will get to hear a different side to Katie on Believe with a little bit of edge that has come from a year on the road. But in true country form Katie has made sure to stay true to her roots as well as her age with down to earth, lighthearted music that will have fans in awe of what is possible from this 16 year old.