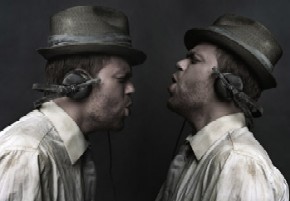 When Tom Waits astutely pointed out that "no dog ever pissed on a moving car" Mugison must have been nodding in bemused agreement.
Impulsively nomadic, creatively restless, Mugi is the kind of post-modern dude that flows with the flux – one of those ants-in-the-pants artists that naturally negates stagnation and actively seeks out new challenges.
"Jesus Is a Good Name To Moan"
[youtube jlHE9T1MXEw nolink]
"To The Bone" (Acoustic Version):
"I listened to hundreds of CDs," says the maestro. "I became aware that artists like John Lee Hooker, Hendrix, Screaming Jay, Bowie, Dylan, The Beatles, Aphex Twin, Björk, Sepultura, the Pixies and Tom Waits all had one thing in common: they were all expressing true feelings and there were no compromises."
 
"Mugiboogie," his third official solo release, was recorded in his home studio, which offers views out onto silent, ancient fjords. Mugi put everything he had into the project. He worked 16 hours a day, started drinking and smoking again, and didn't just flirt with a nervous breakdown but got into bed with one and spent quite a bit of time fighting to get back out.
 
But the aim – to achieve something classic, something visceral and "beyond the norm" — was ultimately achieved. Click-tracks were foresworn to get that old school standards feel. Songs were played over and over again until they were perfected, exorcised of any superficiality.