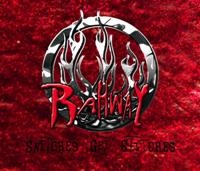 Okay, lets  get right to it with the obvious. This New Jersey band thought it appropriate to have two hot schoolgirls making out in a school bathroom. One of the women is on top of the other and they are lip-locked for sure. Okay cool, that is good for me. I am officially interested to have a listen.
Rahway is a rock/metal band out of Rahway, NJ. These four friends from Jersey have been playing together for many years. Growing up they watched and learned from Bon Jovi who as we know went on to conquer the world with music.
This album is called, 'Snitches Get Stitches' which I think is perfect because this music can move anyone to just want to kick some ass.
These are 14 tracks of in your face rock! The lead singer is a rocker by the name of Steve "King" Visconti. His vocals are right on. His vocals are such that he knows exactly how to get his voice to sound perfect against the rough & loud instrumental background.  
The sound quality is great on this CD. This is the bands debut indie album release on their label, Deadeye Records. One song that is bound to stand out on this album is "Coke Whore." I was so taken back by this track and how real it is, that I am naming this track my favorite in regards to songwriting. The chorus goes alittle like this, "She's my little whore, she's my little coke whore." This song kicks major ass!
When Rahway was recording this album, they wanted to show the music world that they could make an album not with 3-4 good singles but 14 awesome tunes. I think that they did a bit of both. My favorite track on the CD is track 3, "Highway." This song really shows Rahway on all levels. I love the hook and the whole bands shines on this track. Another track of note is "Broken Disease", I enjoyed the guitar solo as well very much.
I will now consider myself a Rahway fan. Four bad-asses from Jersey putting out music that pulls no punches and represents what they are going through. The hot chicks kissing on the album cover art does not hurt either.
Review By: Mikey Frieds