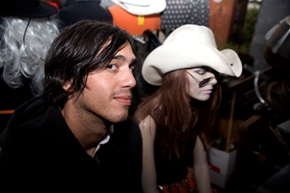 With Kill Kill Kill, Eric will release 12 albums in 12 months from August 2008 — August 2009.  
Each will be released primarily via digital distribution and limited edition short run boutique style Vinyl and   CDR releases (for selected titles). All of the releases have an environmentally conscience theme and the DIY physical releases are made with recyclable or biodegradable materials.   In keeping with Eric's passion for conservation (he has earned a degree from Columbia University in Natural Sciences) a portion of the proceeds from digital and physical sales will be donated to not for profit organizations that support the mission behind the Kyoto Protocol.
The entire 1st album (of 12) can be downloaded as a zip file at:
Single mp3 Demos and artwork can be found at the blog:
Kill Kill Kill is Eric Stiner's (Boy/Girl – Ace Fu) LA based solo project.   The band takes the listener on a mind bending journey that lands somewhere between the psychadelia of Acid   Mothers Temple and the riff laden moxie of the Melvins.     Eric has earned his chops while touring the nation supporting bands such as Jucifer and has crossed the nation twice on self-booked tours.
http://www.myspace.com/k1llk1llk1ll