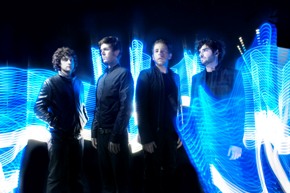 Innerpartysystem   was introduced to the world last fall 2007 with The Download EP, a six-song batch of self-recorded demos — including "Don't Stop" — that pointed the way to their self-titled debut, scheduled to arrive in stores on September 9th on Island Records.    
After self-producing The Download EP, IPS recruited an A-level quorum of producers and mixers to work with them on the album.   These included: Joel Hamilton (Book of Knots, Sparklehorse, Blue Tip), Mark Needham (the Killers, Pete Yorn), Spike Stent (Björk, Arcade Fire), and Alan Moulder (Smashing Pumpkins, Nine Inch Nails, Jesus & Mary Chain, The Killers) and Stuart Price (Madonna, Seal, The Killers) all of whom brought new ideas on sound and instrumentation to the group.
Don't Stop" video:
[myspace 34157409 nolink]
July 8th marks the start of a major cross-country U.S. itinerary, as Hot Topic presents the "Hope For The Hopeless" U.S. tour with Kill Hannah, Medic Droic, and White Tie Affair, nearly three dozen dates through August 23rd (including Lollapalooza in Chicago on August 2nd).   IPS will also   perform at the Voodoo Music festival in October.     Please see tour dates below.
"Don't Stop," a gripping debut single was licensed to EA's globally popular FIFA Street 3 freestyle street football (soccer) video game (released November 2007).       Another track "Heart of Fire," was played during the MTV VMAs in September 2007; and was licensed to EA's Burnout Paradise video game (released January 2008).
Innerpartysystem — lead singer Patrick Nissley, Jesse Cronan (keyboards, programming), Kris Barman (guitar, keyboards), and Jared Piccone (drums) — took their name from the heirarchic controlling class in George Orwell's novel 1984.   The concept resonates in today's world of fake celebrity-worship — which is prominently swiped by Nissley in "Don't Stop," as he rails out, "I feed the rich and fuck the poor".  
www.innerpartysystem.com
 
INNERPARTYSYSTEM ON TOUR
Date                               City                                                         Venue                                                                        
Hot Topic presents "Hope For The Hopeless" U.S. tour with Innerpartysystem, Kill Hannah, Medic Droic, and White Tie Affair:
Date                               City                                                         Venue                                                                        
July      
8                       Columbia, MO                         Blue Note
9                       Oklahoma City, OK         Brick Town
10                   Tulsa, OK                                       Crush Lounge
11                   Dallas, TX                                       Granada Theatre
12                   Houston, TX                               The Meridian
13                   San Antonio, TX                   Scout
15                   Tucson, AZ                                   The Rock
16                   Phoenix, AZ                                 Brick House
17                   San Diego, CA                         Soma
18                   Pomona, CA                               Glasshouse
19                   Los Angeles, CA                   El Rey Theatre
21                   San Francisco, CA             Both
22                   Orangevale, CA                     Boardwalk
23                   Portland, OR                               Six Ultra Lounge
24                   Portland, OR                               Hawthorne Theatre
25                   Seattle, WA                                 El Corazon
26                   Spokane, WA                           The Boulevard
27                   Boise, ID                                           The Venue
28                   Salt Lake City, UT             In the Venue
29                   Denver, CO                                 Marquis Theatre
Aug.    
2                       Chicago, IL                                   Lollapalooza
5                       Jacksonville, FL                       Jack Rabbit's
7                       Charlotte, NC                           The Casbah @ Tremont Music Hall
8                       Lancaster, PA                           Chameleon Club
9                       Poughkeepsie, NY             The Chance
10                   Philadelphia, PA                     The Trocadero
14                   New York, NY                       The Blender Theatre at Gramercy
16                   Millvale, PA                                 Mr. Small's
17                   Cleveland, OH                         Agora Ballroom
19                   Pontiac, MI                                   The Crofoot
21                   Milwaukee, WI                       The Eagles Club
22                   St. Paul, MN                               Station 4
23                   Chicago, IL                                   Metro