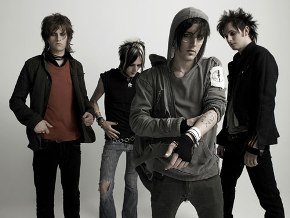 Hot Topic is proud to present the 2008 Hope For the Hopeless Tour, scheduled to hit 40 cities across the US throughout July and August. The multi-artist package will feature KILL HANNAH, THE MEDIC DROID, INNERPARTY-SYSTEM and THE WHITE TIE AFAIR.
Not just a run-of-the-mill tour, but rather a musical event, each stop will include area DJs spinning rock, electronica, techno, and power-pop beats between sets.   Fans are encouraged to come out early and stay out late so they won't miss a minute of the party.
Just off full UK/Europe tours with HIM and Aiden, as well as festival appearances including Bamboozle, Rock AM Ring/Rock IM Park and Download, KILL HANNAH, whose fans include Billy Corgan (Smashing Pumpkins), Mikey Way (My Chemical Romance) and Jared Leto (30 Seconds to Mars), will headline each night of the Hope For the Hopeless Tour with their unique brand of darkwave, new romantic, alternative rock.   No strangers to the road, Mat Devine (vocals, guitar), Dan Wiese (guitar), Jonny Radtke (guitar), Greg Corner (bass) and Elias Mallin (drums), have performed over 600 shows worldwide as headliners as well as with acts including 30 Seconds to Mars, Chevelle, HIM, Jane's Addiction, Velvet Revolver, Flyleaf, Alice in Chains, The Sounds, Shiny Toy Guns and Angels and Airwaves.  
2008 HOPE FOR THE HOPELESS TOUR
Feat. KILL HANNAH w/ THE MEDIC DROID, INNERPARTYSYSTEM & THE WHITE TIE AFFAIR
Jul 8 2008  7:00P  The Blue Note        Columbia, MO
Jul 9 2008  8:00P  Bricktown Ballroom        Oklahoma City, OK
Jul 10 2008  8:00P  The Marquee        Tulsa, OK
Jul 11 2008  6:30P  Granada Theatre      Dallas, TX
Jul 12 2008  8:00P  Meridian        Houston, TX
Jul 13 2008  6:00P  Scout Bar          San Antonio, TX
Jul 15 2008  7:30P  The Rock        Tucson, AZ
Jul 16 2008  6:30P  The Brickhouse Theatre      Phoenix, AZ
Jul 17 2008  7:00P  SOMA            San Diego, CA
Jul 18 2008  7:30P  Glasshouse        Pomona, CA
Jul 19 2008  7:00P  El Rey            Los Angeles, CA
Jul 21 2008  7:00P  Bottom of the Hill      San Francisco, CA
Jul 22 2008  6:30P  The Boardwalk        Orangevale, CA
Jul 24 2008  6:30P  Hawthorne Theatre      Portland, OR
Jul 25 2008  7:00P  El Corazon          Seattle, WA
Jul 26 2008  5:00P  The Boulevard        Spokane, WA
Jul 27 2008  6:00P  The Venue        Boise, ID
Jul 28 2008  6:30P  Club Sound        Salt Lake City, UT
Jul 29 2008  6:30P  Marquis Theatre      Denver, CO
Jul 31 2008  6:30P  Rocketown        Nashville, TN
Aug 1 2008  7:00P  Masquerade        Atlanta, GA
Aug 2 2008  8:30P  The Social        Orlando, FL
Aug 3 2008  6:30P  Culture Room        Ft. Lauderdale, FL
Aug 4 2008  6:30P  State Theatre        St. Petersburg, FL
Aug 5 2008  6:30P  Jack Rabbits        Jacksonville, FL
Aug 7 2008  6:00P  The Casbah @ Tremont Music Hall  Charlotte, NC
Aug 8 2008  7:00P  Chameleon Club      Lancaster, PA
Aug 9 2008  7:00P  The Chance        Poughkeepsie, NY
Aug 10 2008  6:00P  The Trocadero        Philadelphia, PA
Aug 12 2008  6:00P  The Recher Theatre        Towson, MD
Aug 13 2008  6:30P  The Stone Pony         Asbury Park, NJ
Aug 14 2008  6:00P  The Blender Theatre at Gramercy  New York City, NY
Aug 15 2008  7:00P  The Opera House      Toronto, Ontario
Aug 16 2008  6:00P  Mr. Small Theatre      Pittsburgh, PA
Aug 17 2008  6:00P  Agora Ballroom      Cleveland, OH
Aug 19 2008  6:00P  The Crofoot          Pontiac, MI
Aug 20 2008  6:00P  The Intersection      Grand Rapids, MI
Aug 21 2008  6:00P  The Eagles Club        Milwaukee, WI
Aug 22 2008  5:00P  Station 4        St. Paul, MN
Aug 23 2008  5:30P  Metro          Chicago, IL