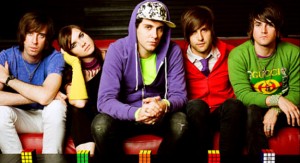 The members of indie pop band Cobra Starship don't take themselves too seriously. While their emo peers play somber, introspective anthems, they make upbeat dance music intended to move bodies and heat up dance floors. The message is clear: shoegazers move over!
Having grown tired of the emo scene, the band wanted to create the antithesis in Cobra: a feel good sound that would get people moving and inspire them to loosen up and have fun. Ryland Blackinton explains their intentions: I m sure I've spent a few too many hours listening to Belle and Sebastian. We all have these sensitive, moody sides to us but we don t really recognize that with Cobra. It's just the total opposite.
We don't have any other goal than to make it poppy and catchy, exciting and dancey. Their music may be dance pop but it has a sarcastic and cynical side to it, a deeper meaning hovering just beneath the glossy facade. The music deals in irony, and they express their criticisms of celebrity culture by creating a caricature of celebrity through the band's flashy image. They openly mock society's obsession with celebrity. Ryland goes further: "I think it's important right now to know we are supposed to make fun of celebrity culture rather than worship it. The mania behind celebrity that we re dealing with now seems to be greater. It's crazy, like This just in, Britney Spears… Are you kidding? Isn't someone starving somewhere that we could help out? He hopes that the message is getting through. It's ambitious, and I don t really know if it will work. But we try and let the kids know that all that [celebrity worship] is stupid."
The vehicle for this criticism is dance music and the outrageous over the top image they have cultivated. The song "Bring It" was their first single on their debut While the City Sleeps, We Rule the Streets and was used in the movie Snakes on a Plane. This played a vital role in exposing them to the masses and amplifying their popularity. The association with the campy, cult film was a perfect complement to Cobra's ironic persona.
"It's fortunate for us that we were sprung into the whole thing with a vehicle as silly and as pop culture like and internet buzzworthy as Snakes on a Plane." The exposure they got from the movie propelled their rise to fame. Now ready to embark on a second world tour to promote their sophomore effort ¡Viva La Cobra! the band's experience with stardom is still fresh. Ryland looks forward to visiting more exotic places in the world. He acknowledges the great opportunities for travel that the band affords. He mentions his trip to Japan and jokes, "We are huge in Japan. I mean we are physically huge in Japan. We re all six foot and taller, so we already have that going for us. Of course, being the ironic bunch that they are, the members of Cobra are not into dancing themselves. Ryland explains, "We all love dance music, so we enjoy making that type of music and watching other people dance. But we don t participate. We might go out and have a few drinks and then dance ironically. Although they aren't into dancing per se, they understand how to make a good dance song; they are adept at making music that inspires movement.
It may be better that they leave the dancing to their fans. Ryland humorously relates the dangers one may encounter when he cuts the rug: You have to understand I'm six foot five; that's a lot of arms and legs to be flailing around all over the place. You really don't want to be doing that; you're gonna scare somebody, knock somebody's hat or head off or eyeglasses…or you'll tie yourself in a knot. Then you re dead. And then what?" Their sense of humor is particularly evident in their music videos, wild satires of celebrity. They relish in their silliness and try infecting their fans with the same feeling during live performances. We're all just goofy bastards, so we re able to look pretty ridiculous and feel great about it. And we encourage whoever comes to the shows to do the same thing.
By Shaun Flagg