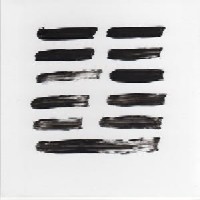 This next CD, I was very curious about. First of all was the fact that the packaging was simply the jewel case and one sheet with the CD cover art. The cover art looks like rows of black paint across a blank canvas. I then opened up the CD and saw that there were only 4 songs. I immediately though this was an EP.
Wow, was I wrong. The CD comes in at 59 minutes in length. All the songs range from 10 minutes to about 19 minutes in length. I must say that the man behind this album, Jason J Bundy intrigued me.
I began to research Jason and I saw that he was at a crossroads in his life when he started to create this album. Jason was living in Florida for 10 years when he decided to move back to his home state of NY. He was going through a rough time when he discovered a Chinese book, 'I Ching.' The album title, 'Returning' refers to the 24th hexagram of the I Ching. The hexagram is also represented on the cover art.
So lets be very honest here. Will Jason have a top 40 mainstream hit with this CD? Probably not. But what Jason does have is a CD that represents him and his vision for the music that he creates. Jason shows that there is something to be said about the musician that creates music for themselves and not the masses.
If you are a music enthusiast that likes to listen to the rare and obscure you will enjoy this CD. I had this CD on as I was drinking and that put me in the right space to understand where Jason was coming from. You can truly respect Jason as a true artist.
Review By: Mikey Frieds