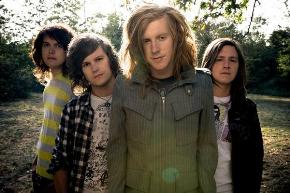 As Mel Brooks so eloquently put it: "It's good to be the king." Despite being zygotes when History of the World pt. I was released, it seems the Florida monarchs from We The Kings made that their mantra and piped it through their 11-track self-titled debut.
While on the back end of a supporting tour, Kings front man Travis Clark gave Skope the skinny on their new debut, how they turned a Florida vacation town into a marketing tool and why despite being kings, they don't necessarily eat like one.
It turns out We The Kings isn't a monarchy after all, rather an oligarchy of lifelong friends whom have known each other from little league to high school. So when the Bradenton natives all found a calling in music, it was only logical they form a band. After all of these years the friends-in-a-band dynamic has had a profound effect on them as much as the band itself.  
"As you grow up together, you just learn to read each other," Travis said. "It just makes it much easier to work with. It's really cool to have that close friendship with the guys. The only thing we may fight about is like 'who ate the last Ramen noodles?'"
Taking their name from the middle school they attended, the newly formed band decided from the beginning that instead of admiring their musical heroes from afar, they would emulate them instead.
"We were basically Blink-182 kids," he said. "When we decided to start a band we wanted to go pop. But we wanted the characteristics of Blink–fun, energetic. On stage and in their videos, they always looked like they were having a blast. So as far as music goes that was definitely a big part of it for us."
After early acclaim at local battle of the bands contests and early self-booked dates in and around Bradenton, the Kings realized "when we got back from the first tour and we hadn't killed each other, we knew we could make it as a band." Shortly after S-Curve Records got involved and signed the fledgling artists. "We chose them [S-Curve] because they were the most family oriented and they were really humble," said Travis.
While We The Kings purposefully joined the ranks of pop punk, many have chided the genre as cookie cutter, assembly line and recycled en masse. Travis and company are aware of what many of their contemporaries are chugging out, however it was their intent to inject a breath of fresh air to a genre often described as lamentable and woeful. Released in October of 2007, the self-titled debut is freshman testament to more heartfelt and upbeat subject matter.
"We'd rather write music that puts a smile on your face," Travis said. "I think it's more how we are as people and where we grew up. It's more true to us write about good times rather than bad."
In speaking of where they grew up, Bradenton encompasses a large quantity of the lyrical subject matter that appears on We The Kings. Tracks like "This Is Our Town", "Skyway Avenue" and "August Is Over" are blatant outcries to the town that serves as their base of operations, inspirational muse and oddly enough, as the ultimate street team.
"You know pretty much everyone in town," Travis said. "So when tourists come to town they'll eventually meet one of our friends or someone we know somewhere. Then we'll invite them to hang out or to one of our shows and if they like it, they'll eventually go home and tell their friends about us. Then when we go to wherever they live they'll in turn bring their friends to the show in their hometown. It creates friendships and networks at the same time."  
Furthering that social network, We The Kings are continuing to support their debut through 2008. After a successful national headline tour ("Long Hair Don't Care Tour"), the band are set to embark on the entire Vans Warped Tour beginning this month.
"We just love the road and touring," Travis concluded. "Being able to stay out there for this record is going to be a huge advantage for us."
Words By: Chris West
Vans Warped Tour
June  
20  Fairplex Park, Pomona, CA
21  Pier 30/32, San Francisco, CA
22  Seaside Park, Ventura, CA
25  Cricket Wireless Pavilion, Phoenix, AZ
26  New Mexico State University,   Intramural Field, Las Cruces, NM
28  Utah State Fair, Salt Lake City, UT
29  Invesco Field at Mile High, Denver, CO
July    
1  Verizon Wireless Amp., Maryland Heights, MO
2  Verizon Wireless Amp., Bonner Springs, KS
3  Superpages.com Center, Dallas, TX
5  Verizon Wireless Amp., Selma, TX
6  Sam Houston Race Park, Houston, TX
9  Lakewood Exhibition Center, Atlanta, GA
10  Central Florida Fairgrounds, Orlando, FL
11  Vinoy Park, St. Petersburg, FL
12  Bicentennial Park, Miami, FL
13  St. Johns County Fairgrounds, Elkton, FL
14  Verizon Wireless Amp., Charlotte, NC
15  Verizon Wireless Amp., VA Beach, VA
16  Merriweather Post Pavilion, Columbia, MD
17  Time Warner Cable Amp. At Tower City, Cleveland, OH
18  Comerica Park, Detroit, MI
19  Downsview Park Allen Road, Toronto, ON
20  Park Jean Drapeau, Montreal, QC
23  Tweeter Center for the Performing Arts, Mansfield, MA
24  Darien Lake Performing Arts Center, Darien, NY
25  Susquehanna Bank Center, Camden, NJ
26  Nassau Coliseum, Uniondale, NY
27  Toyota Pavilion, Scranton, PA
28  Raceway Park, Englishtown, NJ
29  Post Gazette Pavilion, Pittsburgh, PA
July
30  Riverbend Music Center, Cincinnati, OH
31  Verizon Wireless Music Center, Noblesville, IN
August    
1  Marcus Amp., Milwaukee, WI
2  First Midwest Bank Amp., Tinley Park, IL
3  Canterbury Park, Shakopee, MN
5  Credit Union Centre, Saskatoon, SK
6  Race City Speedway, Calgary, AB
8  Idaho Center Amp., Nampa ID
9  George Amp., George, WA
10  Columbia Meadows, St. Helens, OR
13  Save Mart Center, Fresno, CA
14  Coors Amp., Chula Vista, CA
15  Shoreline Amp., Mountain View, CA
16  Sleep Train Amp., Marysville, CA
17  Home Depot Center, Carson, CA