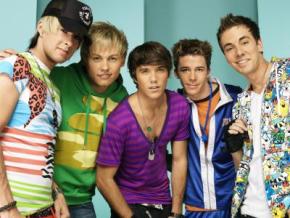 You don't even have to look it up, it's been true so many times: When young male bands playing fresh pop music explode, the music and concert industries as a whole do the same.
Rolling Stone reports this month that the reunited New Kids on the Block is selling out arena shows in advance of a new album release and there are new groups primed to follow in their footsteps; "New Kids are back and a fresh crop of groups is on the way."
That quaking noise you hear behind the energetic, romantic and unfailingly sunny sound of Capitol Records vocal quintet VARSITY FANCLUB is the teen underground amassing to write a new chapter of pop, in a tradition that embraces all-time great take-off moments like "I Want You Back" by the Jackson 5, "Last Train to Clarksville" by the Monkees, "Hangin' Tough" by New Kids on the Block, "Quit Playing Games (With My Heart)" by the Backstreet Boys, and "Tearin' Up My Heart" by NSYNC.
VARSITY FANCLUB has already taken a place alongside such established teen stars as Miley Cyrus and the Jonas Brothers on AOL Music's Kids Pop channel, as well as on the regular Radio Disney playlist, with the suavely melodic preview single "Future Love" having drawn a thumbs-up rating in the network's "Music Mailbag" pick-it-or-kick-it listener call-in poll. Within 3 weeks of airplay on Radio Disney, the single quickly became the #5 most requested song on the station.   "Future Love" is released as a digital single on June 24th. An additional track, "Zero," a churning electro romp that issues a veiled challenge to all the other young male bands VFC is leading into the pop mainstream, will be released digitally on July 22nd.
Audio and video streams of both songs at VFC's MySpace.com official site pile up by the thousands daily, adding up to a 3.2 million-plus total since the page's March 2008 launch. A previously-leaked track, "Complicated Girl," has already exceeded a million plays alone.
The five young men of VARSITY FANCLUB (Drew Scott, Jayk Purdy, Thomas Fiss, Bobby Edner, David Brandt) survived a vetting process much tougher than even the popular publicly-voted boot camps American Idol, So You Think You Can Dance and You're the One That I Want. The result was a group of five genuine triple-threats as lead vocalists, dancers and actors, every one of them groomed to hit and kill in every studio, concert stage and TV/film endeavor. VFC has taped an upcoming episode of ABC Family Channel's new series The Middleman airing July 21st, playing themselves and performing their song "Bad Habit."   They will make their first live television appearance on August 8th, on the NBC San Diego affiliate station's Streetside San Diego.  
Crediting as an influence "anyone who has soul," the song "Future Love," co-written Ryan Tedder of OneRepublic ("Apologize," Leona Lewis' "Bleeding Love") and Evan Bogart (Rihanna's "SOS"), was also a creative inspiration to every member of the group, providing an impetus for all of them to write songs in preparation of their debut album release, scheduled for January 2009.
www.myspace.com/varsityfanclub
www.varsityfanclub.com
Photo Source: Marina Chavez