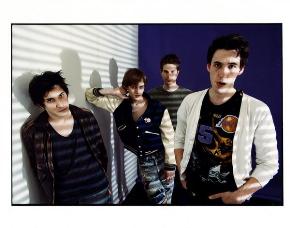 Atlantic recording group The Virgins have announced dates for their upcoming tour with the Black Kids, kicking off September 19th in Jacksonville, FL.  
The Virgins released their critically acclaimed self-titled debut album on June 3rd.   Produced by S*A*M* and Sluggo, the album received 4 stars from Rolling Stone, while Spin Magazine hailed, "The Virgins have had the kind of out-of-thin ether rise that causes bloggers to gush and their peers to curse," and Alternative Press named them one of the "100 Bands You Need to Know."
The band's first single "Rich Girls," debuted at #3 on the FMQB Specialty Chart and was Sprint's 9th Most Downloaded Song for the week of June 3rd.   In addition, The Virgins just released the first video for the track "Private Affair."   The video, which makes its MySpace.com premiere today, is an homage to the Robin Byrd-style cable access shows we all know.  
 
SKOPE IT HERE!
THE VIRGINS ON TOUR
June
28               Paris, France                                                   Jalouse Rocks
July
6                   Rotterdam, Holland                           Metropolis Festival
8                   London, UK                                                     Shepherds Bush Empire
9                   London, UK                                                     Shepherds Bush Empire                                                                                                                      
10               Liverpool, UK                                               Academy
12               Aix-Les-Bains, France                     Musilac Festival
15               London, UK                                                     Madame JoJos
17               London, UK                                                     Proud Galerie  
18               Suffolk, UK                                                       Latitude Festival              
September with Black Kids
19               Jacksonville, FL                                         Freebird
20               Orlando, FL                                                     The Social
23               Atlanta, GA                                                       Earl
24               Athens, GA                                                         40 Watt
25               Carrboro, NC                                                 Cat's Cradle
26               Baltimore, MD                                             Ottobar
27               Washington, DC                                       Black Cat
29               Philadelphia, PA                                       First Unitarian Church
October
2                   Boston, MA                                                       Paradise
4                   Montreal, QUE                                           Cabaret Music Hall
5                   Toronto, ONT                                               Mod Club
6                   Chicago, IL                                                       Metro
7                   Minneapolis, MN                                   7th Street Entry
10               Seattle, WA                                                       Neumo's
11               Vancouver, BC                                             Richards
12               Portland, OR                                                   Hawthorne
13               San Francisco, CA                                 Fillmore