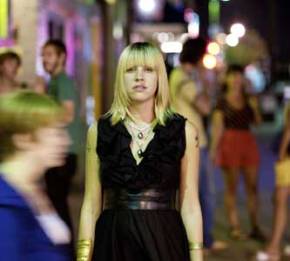 Ex-Chanteuse From The Anniversary Breaks Away And Delivers Her Divine Debut!
"Adrianne Verhoeven" has spent her music career lending her vocal and keyboard chops to bands like The Anniversary, Art In Manila and Fourth Of July but "Dri", as Adrianne is known to her friends, has spent her 20's seeing the world, falling in and out of love, getting lost in the hazy days and buzzed nights of Lawrence, Kansas and dreaming all the while of stepping out and rocking the mic on her own. Her debut record, "Smoke Rings", is just that – a collection of kisses (and kiss-offs) blown to past and present loves; a swirl of stoned immediacy, of feelings and melodies coming to life in loose perfection.
Bonus 4 Track Remix EP:
With a background in everything from opera to emo, from vibes to horns, Dri's record could have gone anywhere. That she found joy in crafted beats and soulful samples is due largely to the talents of a few local Lawrence, Kansas producers who plied her with tracks that she could turn in to treasures.   Those producers are rare soul/funk deejay Josh Powers ("Don't Wait", "What's Real"), protools-stylist SayMyName ("Two Are One", "Indria", "Inspiration", "Hot As Hades"), hip hop producer and emcee Nezbeat ("You Know I Tried", "Free Tonight") and electronic composer 1,000,000 Light Years ("Meet Me Out").
For a female musician in the mix since she was 18, Dri has seen and done it all and these songs work through what mattered ("Don't Wait"), what matters ("Two Are One"), what a girl wants ("Indria", "Hot As Hades"), what a girl needs ("Inspiration"). What makes her happy is connecting with the music and as a distillation of her talents and influences, "Smoke Rings" is all Adrianne.
As a sense of her seductiveness, however, "Smoke Rings" is pure Dri.
"Smoke Rings" was recorded in Lawrence, Kansas by Jim Vollentine and mixed in Austin, Texas by Jim Vollentine. Mastered by Howie Weinberg.
US Summer Tour
June 27     Lawrence, KS     The Bottleneck
June 30     Omaha, NE     Waiting Room
July 1   St. Louis, MO   The Pageant   (With Modest Mouse)
Conor Oberst West Coast Dates:
July 29   Vancouver B.C.     Richard's on Richards
July 30   Seattle, WA   Nuemos
July 31   Bend, OR     Midtown Ballroom
Aug 1     San Francisco, CA       Bottom Of The Hill
Aug 2     San Francisco, CA       Bottom Of The Hill
Aug 3   Santa Cruz, CA       Rio Theatre
Aug 5   Los Angeles, CA     Troubadour