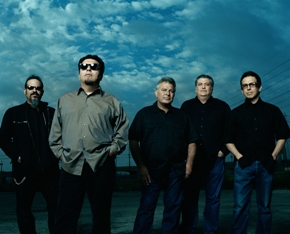 Latin rock fans nationwide are in store for a special treat with this summer's The Brotherhood Tour.  
Hosted by Los Lonely Boys who are joined by co-headliners Los Lobos, The Brotherhood Tour will stop in cities across the United States to bring that special Latin flavor for which they are both renowned.  
Since they began as Los Lobos Del Este Los Angeles in 1973, Los Lobos has evolved into a respected artistic entity using eclectic musical molds built on the blues, rockabilly, jazz, Latin and their own Mexican-American heritage.   Critically acclaimed Los Lobos has thrived for more than three decades.   In that time, they have released over 15 albums, won the Best American/Mexican Grammy for Anselma in 1984, and in 1987 their cover of "La Bamba" shot straight to #1 on the Billboard Singles chart where it remained for three weeks.  
Current confirmed Los Lobos tour dates are as follows:
June 20 Casino Regina Show Lounge Regina, Saskatchewan CANADA
June 21 Saskatchewan Jazz Festival Saskatoon, Saskatchewan CANADA
June 28 Kate Wolf Memorial Music Fest Laytonville CA
July 04 Waterfront Independence Fest Louisville KY
July 05 Alameda County Fair Pleasanton CA
July 06 Marin County Fair San Rafael CA
July 10 Party in the Park Rochester NY
July 11 Town Center Park at Meadowbrook Hamden CT
July 12 The Mahaiwe Theatre Great Barrington MA
July 18 Oregon Zoo Amphitheatre Portland OR – Brotherhood Tour with Los Lonely Boys
July 19 Marymoor Amphitheater Redmond WA – Brotherhood Tour with Los Lonely Boys
July 20 Cuthbert Amphitheatre Eugene OR – Brotherhood Tour with Los Lonely Boys
July 22 Mountain Winery Saratoga CA – Brotherhood Tour with Los Lonely Boys
July 25 Greek Theatre Los Angeles CA – Brotherhood Tour with Los Lonely Boys
July 26 Concerts in the Park Alpine CA – Brotherhood Tour with Los Lonely Boys
July 27 Anselmo Valencia Amphitheatre Tucson AZ – Brotherhood Tour with Los Lonely Boys
July 29 Sandia Casino Albuquerque NM – Brotherhood Tour with Los Lonely Boys
July 30 Red Butte Garden Amphitheater Salt Lake City UT – Brotherhood Tour with Los Lonely Boys
July 31 World Arena Colorado Springs CO – Brotherhood Tour with Los Lonely Boys
August 01 Fillmore Auditorium Denver CO – Brotherhood Tour with Los Lonely Boys
August 02 Harrah's Casino Council Bluffs IA – Brotherhood Tour with Los Lonely Boys
August 04-05 Music in the Zoo Apple Valley MN – Brotherhood Tour with Los Lonely Boys
August 07 Frederik Meijer Gardens Grand Rapids MI – Brotherhood Tour with Los Lonely Boys
August 08 Ravinia Festival (Pavilion) Highland IL – Brotherhood Tour with Los Lonely Boys
August 09 Egyptian Room at Murat Centre Indianapolis IN – Brotherhood Tour with Los Lonely Boys
August 10 Meadow Brook Music Festival Rochester Hills MI – Brotherhood Tour with Los Lonely Boys
August 12 The Filene Center Vienna VA – Brotherhood Tour with Los Lonely Boys
August 14 Central Park Summerstage New York NY – Brotherhood Tour with Los Lonely Boys
August 29 Harley Davidson 105th Anniversary at Cutler Park Waukesha WI
August 30 American Music Festival Virginia Beach VA
September 01 Texas Music Festival Houston TX
October 05-12 Rhythm & Blues Cruise Pacific San Diego CA
October 25 Bloomington Center for Performing Arts Bloomington IL
November 08-09 Walt Disney World Resort Orlando FL
December 07 Lancaster Performing Arts Center Lancaster CA