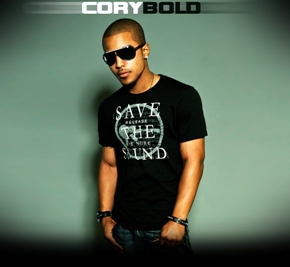 So the other night I was shooting the breeze with my homie, Shaun Cairo, of Shakir Entertainment in NYC. He starts telling me about this 19 year old producer who is making grown man moves. Next thing you know Stoli gets the 411 on the next big thing behind the boards, Cory Bold.
Stoli: How old are you & when did you start producing music?
CB: I'm 19. It's really kind of crazy how I began producing music. I wasn't raised or had a strong interest in music as a little kid. I was just always creative, and liked anything that would let you make something completely from scratch, like drawing for example. With that being said, I was around 12 when my brother mentioned he heard from a friend about this software that would let you create your own music. The idea of that really fascinated me, and so we got it. I had so much fun with the software and literally stayed on it day and night, learning all the aspects of music knowledge. That's where it all began!
Stoli: What music genre did you grow up listening to and how has that effected you as a producer today?
CB: I Didn't really grow up around music really! So I'll start from when I got into music creation. Pretty much I listened to straight R&B and Hip Hop. Starting out, I was the BIGGEST fan of The Neptunes and Timbaland. They were really running the show at the time! I would say they had an influence on me because they showed that you can really be innovative with music, and that there was no rules to a music track. I've always kept that mindset.
Stoli: When you are working with a new artist how do you determine the best way to get a hit song out of them?
CB: I want to Omit this one due to I haven't actually scored a MAJOR #1 hit yet, but that's in the works!
Stoli: You have worked with some big name acts in the music biz. What would you say was your big break from obscurity to getting recognized on a major level?
CB: My big break I would say is doing work with Omarion on his debut solo album. My very first placement was a song called "TAKE IT OFF" on his debut "O" album. Even though my style has dramatically changed and evolved since then, it still was the first impression the industry recieved from CORY BOLD, and   I was only around 16 at the time. It was a plus that it was one of the very few club songs on the album!
Stoli: Name two producers that you look up to and why?
CB: Two producers I look up to would have to be Prince, and Jimmy Jim and Terry Lewis. I say Prince because his style is so different from what everyone else does. He really set some of the big trends we hear today! Not to mention his music is just AMAZING period! I say Jimmy Jam and Terry Lewis because they're so clever with the material they do. Most especially, their work with Janet Jackson back in the day. The deep guitars, the mysterious chords, their music is one of a kind! I think Janet's "COME BACK TO ME", which was produced by Jimmy Jam and Terry Lewis, is one of the best ballads of all time.
Stoli: Would you ever consider going from the boards to in the booth as an artist?
CB: Haha, who ME? Nah, not anytime soon. This industry is just too full of new artists. For now, I'll stick to laying down the production, and sign a decent publishing deal when I feel the time is right!
Stoli: You have a sharp look to you. How do you know when a woman likes you for you & not because of who you are?
CB: Thanks! I've got to keep it GQ, haha. Honestly, you can say I'm still learning. You know how clever women can be sometimes. I guess I will get better with this one in time!
Stoli: When you are up in the club, explain what kind of woman will make you buy her a drink and hit the dance floor?
CB: Hahahaha. Only a couple more years until I am 21!! Most clubs around my area, the guys have to be 21 and up.
HOWEVER, I've went to a couple with some friends who knew the owners, so I know a little somethin' somethin' haha.
For me to buy a girl a drink, we've got to have some good CHEMISTRY right on the spot! You know, the kind of chemistry where If I go up to chat to her, it just feels natural like I've already known her. Once a good little conversation has been started, and we're vibin a little bit, It's only natural to offer a drink. And she's gotta be a cutie!
Stoli: Have you ever followed Usher's song and made love in a club?
CB: Hehe. Nope. Sounds fun though, I'll have to give it a try!
Stoli: If there is one artist that you have not worked with but would love to?
CB: I'd have to give it a tie between The Dream, and the band Maroon 5. The Dream is truly an incredible songwriter, so it'd be an honor to work with someone with so much vocal creativy. Maroon 5 because their music is just RAW! I don't know how else to put it! It's a little mix of everything in one.
Stoli: What two tracks are you most proud of producing to date?
CB: Hmm, to date I would have to say first and FOREMOST, the track I did for Ms. Keri Hilson called "ALIENATED". The track I actually made back in 2006. My beat has some futuristic chime melodies backed with these, deep emotional string pads.
The track really takes you into outer space with it's vibe. Keri Hilson complimented the track perfect with her futuristic vocals/talk-singing. I even get a little innovative, and hit you with this tribal percussion break down at the bridge/breakdown. I was blown away the first time I heard what she had did to it!
The other track would have to actually be this song I'm about to cut with upcoming Interscope artist, Jordyn Taylor called "LIKE U."
The song's vocals were written by this extremely talented group of songwriters I work with out of Los Angeles called THE SENATE, be on the lookout for them!
Stoli: If an unsigned act wanted to work with you, how would they go about that?
CB: That's simple, drop me a myspace message, haha. You can check it out at www.myspace.com/corybold. YES, I read through all the messages!
Stoli: In this day and age what is more important? A hot album or 2-3 banging hits?
CB: Depends on what the artist is going for. If they are going for longetivty and lasting power in the industry, then you need to come with both. No holding back. For as a banging hit here or there, anyone can do that, but if a couple hits is all an artist can offer, you won't hear from them a year from now.
 
Stoli: What can we look for from Cory Bold in 2008 & beyond?  
CB: You can look for a lot of Cory Bold productions banging out of your speakers in the near future! Currently working on projects with Keri Hilson, Lloyd, Jordyn Taylor, upcoming Chris Brown, and much more. Keep your ears open, it's about to be my turn!