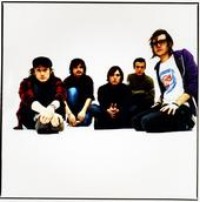 I have to admit that this is one release I've been waiting for.   The Welsh boys PIP has been one of the few nice surprises in the past few years, in an industry concentrating on mediocrity.   I've interviewed and seen them live, and they more than hold their end of the musical bargain.   PIP aficionados have pre-warned me that I'll like this release even better than the previous debut disc As Far As The Eye Can See, so here it is on the CD player and me at the keyboard: Showdown Time!    
Where do these guys get off hitting you with a great first track, and then a completely different second track, equally as good?   Gareth Jones vocals have the lasting qualities required for this industry, and Peter Roberts's guitar work and effects are a blessing to rock ruined ears.   John Maloney's drumming is also fittingly artistic.   I'm at an advantage having an advance copy, but at a slight disadvantage in not having a track list.   You know what, It really doesn't matter.   I'm listening to this thing track by track, and they all have their own uniqueness, and stand on their own merit.  
Whether they take a lyrically creative piece and slow it down to a ballad, speed it up to overdrive, play it jerky with "Offbeats", its all-good stuff.   PIP takes up where Incubus left you standing, wondering what happened, and Blue October gave you hope once again for Music kind.   This is definitely the best release I've heard this year!   This is definitely a "Must have" thing to own, better yet, it can double as that birthday present you've been waiting to give your significant other (or others, or mothers).  
Before I realize that I'm entirely sounding like Alton Brown on Good Eats, I'm going to finish this and listen to the disc again!  
Review By: RME
[Rating: 5/5]