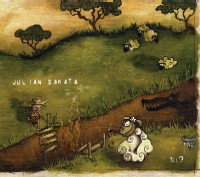 I am trying to do one review per day. I think that life is alot better when you are constantly being introduced to new music & artists.   It is great to write for Skope where new music flows like an oil well.
Julian Sakata is a man on a mission. Julian understands just how hard it can be to break from obscurity into getting known but that does not hold him back. After listening to his new CD, 'See', you can tell that he has alot on his mind and he wants to get it out.
The melody on much of this CD is mellow. The tracks flow from one to the next and Julian takes the listener into a trance where all you hear is his voice and his emotions.
First off is the album cover art. If you look close enough you will see a farmer across the river with the bridge destroyed, on fire, and under water. Across the river is a lamb looking over at him with a smile on his face. Also in the water it looks like a wolf ready to eat dinner. Whether the wolf will eat the lamb or farmer is up in the air. Maybe a twisted version of "Mary Had A Little Lamb?"
The music on the other hand is another story. If you can sit down, chill out, and give Julian the time you will enjoy this CD. This is not your average pop CD but I do not think Julian wanted that. The sound of the CD is clear and high quality. There are two tracks on the CD that I loved. That is "Little Sun" and "Suffer The Young." Both tracks display Julian's vocal ability and the instrumentals are super especially the piano.
As I said earlier, the CD is deep. The songwriting is from a musician that lives life full of emotions. My favorite track that shows his way lyrically is, "No Good Bye." If you are going through a break-up this is your anthem until you get back on your feet.
Like beer for the first time, this CD is an acquired taste. The more sips you take the more you will enjoy it. A solid album by Julian Sakata!
Review By: Mikey Frieds
[Rating: 3/5]