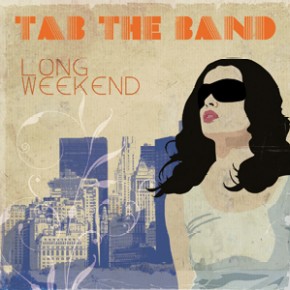 They will be releasing their first single, "Where She was On Monday," on July 1st and it will be available everywhere digital music is sold. For that first week, the track will be a featured free download from Amazon.com.
Another first, a TAB the Band video for their single. The trio are working with the directing duo directing duo Michael & Miguel. Music fans may know them from their latest TRL fave video for Tokyo Police Club's Tessellate, or from their score for the video game Super Mario Bros.
"Where She Was on Monday":
in an organic way. On this second release, the guys stretched the spectrum, some songs heavier and some more poppy.
The album's theme is about a girl living in the ritzy outskirts of a big city, messing around with her absentee parents' rich friends, taking trips to the city on her own and living dangerously. The songs take on the perspectives of her, her middle-aged wealthy suitors, and the 'good guy' at her school who laments over her dalliances. Ultimately, it doesn't work out and she finds herself, once again, in the hands of another ne'er-do-well mid-life crisis fellow.
Recorded at the Boneyard in Duxbury, MA, Long Weekend was written, recorded
GREAT ARTICLE IN BOSTON HERALD:
Tour Dates:
August 17th- Verizon Wireless Amphitheatre (Opening for Stone Temple Pilots and Black Rebel Motorcycle Club) – Charlotte, North Carolina
August 19th- UCF Arena (Opening for Stone Temple Pilots and Black Rebel Motorcycle Club)- Orlando, Florida
August 22nd- Ford Amphitheatre (Opening for Stone Temple Pilots and Black Rebel Motorcycle Club) – Tampa, Florida
August 23rd-   Verizon Wireless Amphitheatre (Opening for Stone Temple Pilots and Black Rebel Motorcycle Club) – Alpharetta, Georgia
Sept 13th- Great Scott (RECORD RELEASE SHOW!!!!)   – Boston, Massachusetts